Craving a delicious slice of pizza is one thing, but dealing with a heavy, bloated feeling afterward can be quite another. Many struggle to digest pizza because it combines rich toppings, cheese, and dough. We will explore the easy ways to digest pizza, ensuring you can indulge in your favorite treat without any digestive woes. So, let's dive in and uncover the secrets to a happy tummy after pizza consumption!
Understanding the Digestive Process
Before diving into the ways to aid pizza digestion, it is essential to understand how the digestive system works. The digestive process begins in the mouth, where food is broken down into smaller pieces through chewing and mixed with saliva. The food then travels down the esophagus and reaches the stomach, where gastric juices and enzymes help break it down further. The partially digested food from the stomach moves into the small intestine, where it is broken down into nutrients and absorbed into the bloodstream. Finally, the waste products pass into the large intestine, and the body eliminates them as a stool.
Factors Affecting Pizza Digestion
Several factors can influence how well your body digests pizza. By being mindful of these factors, you can make the digestion process easier and more comfortable.
Easy Ways to Digest Pizza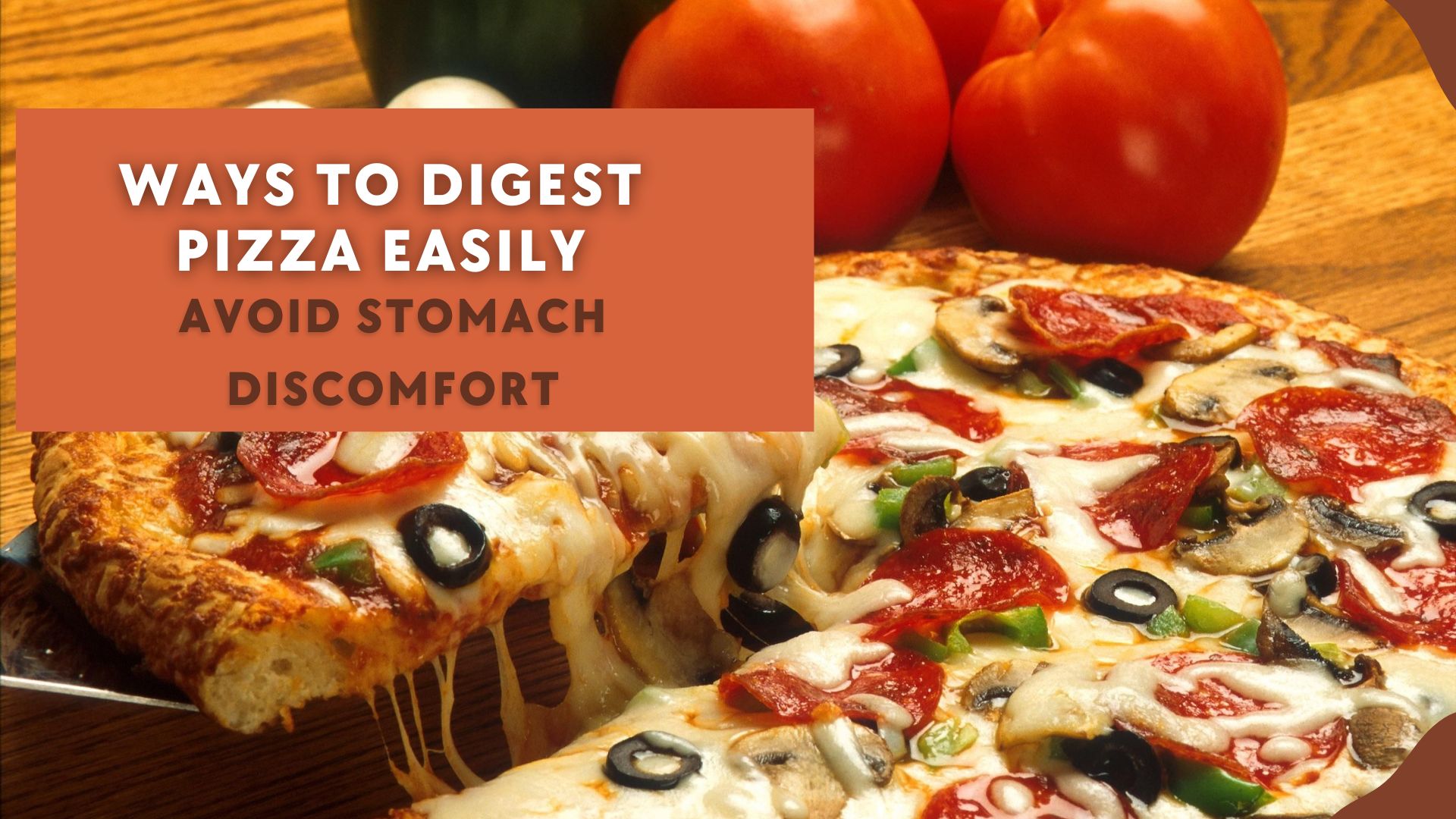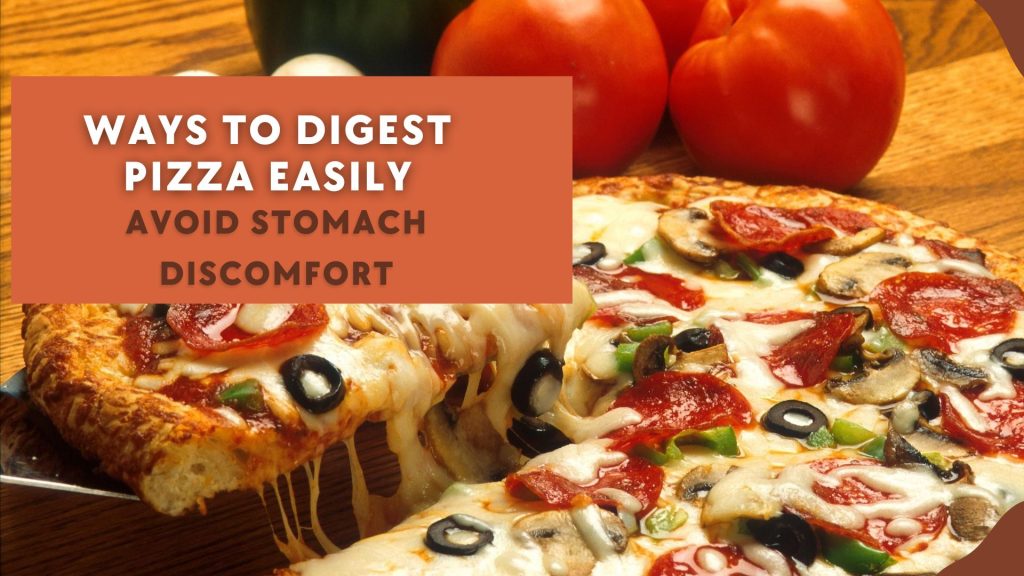 Chew Your Pizza Thoroughly
The first step to easier pizza digestion begins before you even bite. Take your time to chew each mouthful of pizza thoroughly. Chewing breaks down the food into smaller particles, making it easier for your stomach to digest. Doing so reduces the strain on your digestive system and minimizes the chances of experiencing discomfort later.
Opt for Thin Crust Pizza
When it comes to pizza, crust thickness matters. Thin crust pizzas are generally easier to digest than thick, doughy ones. The thinner the crust, the less dense it is, allowing quicker and more efficient digestion. So, if you're prone to digestive issues, consider choosing a thin crust option next time you order pizza.
Mindful Eating
Practicing mindful eating can have a significant impact on your digestion. When enjoying your pizza, be present and savor each bite. Avoid rushing through your meal, and take the time to appreciate the flavors and textures. Mindful eating promotes proper chewing and allows your body to recognize better when it's full, preventing overeating and unnecessary strain on your digestive system.
Pair Pizza with Digestive-Friendly Foods
Pairing your pizza with digestive-friendly foods can help ease the digestion process. Opt for a side salad or steamed vegetables, as they provide dietary fiber, which aids in digestion. Adding a sprinkle of dried oregano or a dash of digestive-friendly spices like fennel or ginger to your pizza can further support digestion.
Stay Hydrated
Hydration is key to maintaining a healthy digestive system. Drinking enough water throughout the day helps to break down food and keep your digestive tract running smoothly. Ensure you have a glass of water with your pizza to support digestion. However, avoid drinking excessive amounts of liquid during your meal, as it can dilute stomach acid and hinder digestion.
Moderate Your Portion Size
Portion control plays a crucial role in digestion. While it can be tempting to indulge in multiple slices, overeating can strain your digestive system. Opt for reasonable portion size and listen to your body's fullness signals. Eating smaller, more frequent meals can also aid digestion and prevent discomfort.
Incorporate Digestive Enzymes
Digestive enzyme supplements can help enhance your body's ability to break down food, including pizza. These supplements contain enzymes like amylase, protease, and lipase, which assist in breaking down carbohydrates, proteins, and fats. Consult your healthcare professional before incorporating digestive enzyme supplements into your routine to ensure they suit you.
Use Probiotics
Probiotics are beneficial bacteria that support a healthy gut and aid digestion. Consuming probiotic-rich foods or taking probiotic supplements can help improve your overall digestive health. Add yogurt, kefir, sauerkraut, or kimchi to boost your probiotic intake.
Take a Walk After Eating
Light physical activity, such as walking after eating pizza, can aid digestion. Walking helps stimulate the muscles in your digestive tract, promoting food movement through your system. This gentle exercise can reduce bloating and discomfort, allowing for a smoother digestion process.
Practice Stress Management
Stress and digestion are closely connected. High-stress levels can interfere with your body's ability to digest food effectively. Incorporate stress management techniques into your daily routine, such as deep breathing exercises, meditation, or engaging in activities that bring you joy. By reducing stress, you can support optimal digestion.
Final Thoughts
Pizza is a beloved and delicious food, and with the easy ways to digest pizza we've explored, you can now enjoy it without digestive discomfort. From mindful eating to incorporating digestive aids, such as enzymes and probiotics, these simple tips can significantly impact your pizza digestion experience. Remember to chew thoroughly, choose a thin crust, and practice portion control. Listen to your body's signals and make adjustments accordingly. By following these tips, you'll be well on your way to a happy tummy and pizza satisfaction!
Frequently Asked Questions (FAQs)