Pizza lovers always look for new toppings and sauces to add flavour to their favourite food. While the tomato sauce is the classic base for pizza, adventurous foodies often experiment with different flavors to spice up their pies. One such sauce has been gaining popularity among pizza lovers is "Schezwan sauce". Originating from the Sichuan province of China, Schezwan sauce is known for its spicy and tangy taste. But Can we use Schezwan Sauce as pizza sauce? This question has been dividing pizza enthusiasts for some time. Some argue that the bold and intense flavor of Schezwan sauce may overpower the other toppings on the pizza, while others believe that it can complement other ingredients well. In this article, we will explore the possibilities and considerations of using Schezwan sauce as a substitute for pizza sauce.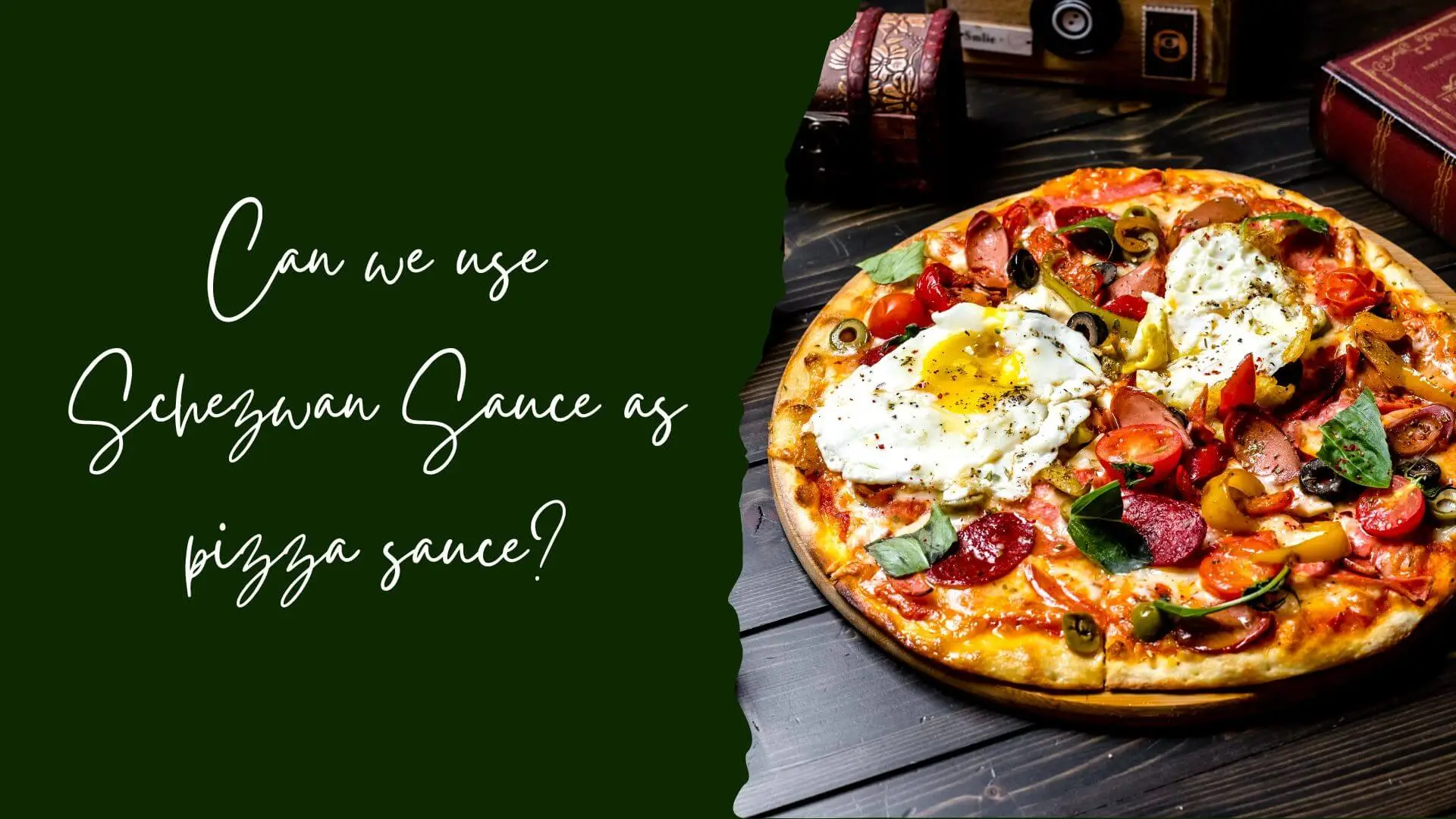 Understanding Pizza Sauce
Pizza sauce is the base of every pizza and it's important to understand what it is and how it's made. Typically, it's made with San Marzano tomatoes, olive oil, garlic, salt, and basil. However, there are variations that include additional ingredients like red pepper flakes or oregano. The thickness and consistency of the sauce can also vary, depending on preference. It's important to cook the sauce before adding it to a pizza to bring out the flavors and prevent a soggy crust. Pizza sauce acts as a foundational element, providing a balanced taste that complements the toppings and crust.
Exploring Schezwan Sauce
Schezwan sauce is a spicy and tangy sauce originating from the Sichuan province in China. It is made with a blend of chili peppers, garlic, ginger, and other spices that give it a bold and complex flavor. Exploring different ways to incorporate Schezwan sauce into your cooking can add flavor and excitement to your meals.
Comparing Pizza Sauce and Schezwan Sauce
While pizza sauce and Schezwan sauce both serve as flavorful bases, they possess distinct characteristics. Pizza sauce offers a tangy and herb-infused taste that harmonizes with various toppings. On the other hand, Schezwan sauce brings intense heat and a unique blend of Asian flavors. The decision to replace pizza sauce with Schezwan sauce ultimately depends on personal preference and the desired taste experience.
Adding Schezwan Sauce to Pizza: Pros and Cons
Pros of Using Schezwan Sauce on Pizza
Flavorful Heat: Schezwan sauce can add a fiery kick to your pizza, introducing a new dimension of spice and complexity.
Unique Fusion: Incorporating Schezwan sauce allows for the creation of fusion pizzas, combining elements from Italian and Indo-Chinese cuisines.
Versatility: Schezwan sauce pairs well with a variety of pizza toppings, such as chicken, shrimp, bell peppers, and onions.
Experimentation: Using Schezwan sauce encourages culinary exploration, allowing you to create unconventional and exciting flavor combinations.
Cons of Using Schezwan Sauce on Pizza
Overpowering Flavor: Schezwan sauce has a strong and dominant taste, which may overshadow the flavors of certain pizza toppings.
Spiciness: Schezwan sauce is notably spicy, and individuals with a low tolerance for heat may find it overpowering.
Traditional Expectations: Purists who prefer the traditional taste of pizza might find the inclusion of Schezwan sauce unconventional.
Creative Pizza Combinations with Schezwan Sauce
If you decide to experiment with Schezwan sauce on pizza, here are some creative combinations to consider:
How to Use Schezwan Sauce as a Pizza Sauce Replacement
To use Schezwan sauce as a substitute for pizza sauce, follow these simple steps:
Prepare Your Pizza Base: Start with your preferred pizza crust or dough and preheat your oven according to the crust's baking instructions.
Spread the Schezwan Sauce: Instead of traditional pizza sauce, spread a thin layer of Schezwan sauce evenly on the crust.
Add Toppings: Arrange your desired toppings over the sauce, ensuring a balanced distribution of flavors.
Cheese and Bake: Generously sprinkle cheese of your choice over the toppings and bake the pizza in the preheated oven until the cheese is melted and bubbly.
Finishing Touches: Once the pizza is cooked, you can drizzle additional Schezwan sauce on top or garnish it with fresh herbs for added flavor.
Tips for Enhancing the Flavor of Schezwan Sauce on Pizza
To maximize the flavor experience when using Schezwan sauce on pizza, consider the following tips:
Popular Pizza Chains Embracing Schezwan Sauce
Several pizza chains have recognized the appeal of Schezwan sauce and introduced it as an alternative sauce option. They have incorporated Schezwan-inspired pizzas into their menus, offering customers a spicy twist on traditional favorites.
Experimenting with Homemade Schezwan Pizza Sauce
For those who prefer homemade flavors, creating a Schezwan pizza sauce from scratch is an exciting endeavor. By combining red chilli peppers, garlic, ginger, soy sauce, vinegar, and other spices, you can customize the Schezwan sauce to suit your taste preferences. This homemade sauce can then be used as a base for your unique Schezwan pizza creations.
FAQs
Wrapping Up
while traditional pizza sauce provides a tried-and-true foundation for pizzas, the inclusion of Schezwan sauce can introduce exciting new flavors and spice levels. By replacing pizza sauce with Schezwan sauce, you can experiment with fusion pizzas, delighting your taste buds with a combination of Italian and Indo-Chinese influences. Whether you prefer the tangy harmony of pizza sauce or the fiery kick of Schezwan sauce, the choice ultimately lies in your personal preferences and culinary explorations.