Pizza is a universally loved food that comes in many sizes and toppings. One size that's gaining in popularity is the 12-inch pizza. While most pizzas are around 14-16 inches, the 12-inch pizza has become a go-to size for many. These pizzas are perfect for sharing among a small group of friends or as a meal for one or two people. But what makes a 12-inch pizza so special?
In this article, we'll dive into everything you need to know about 12-inch pizza. From How big a 12 inch pizza is and the weight of this pizza size to how many calories are in 12-Inch pizza. You'll also learn about the different types of crusts that can accompany a 12-inch pizza and the various cooking methods that can be used. By the end of this article, you'll have a better understanding of what makes a 12-inch pizza so unique and why it's become a top choice for pizza lovers everywhere.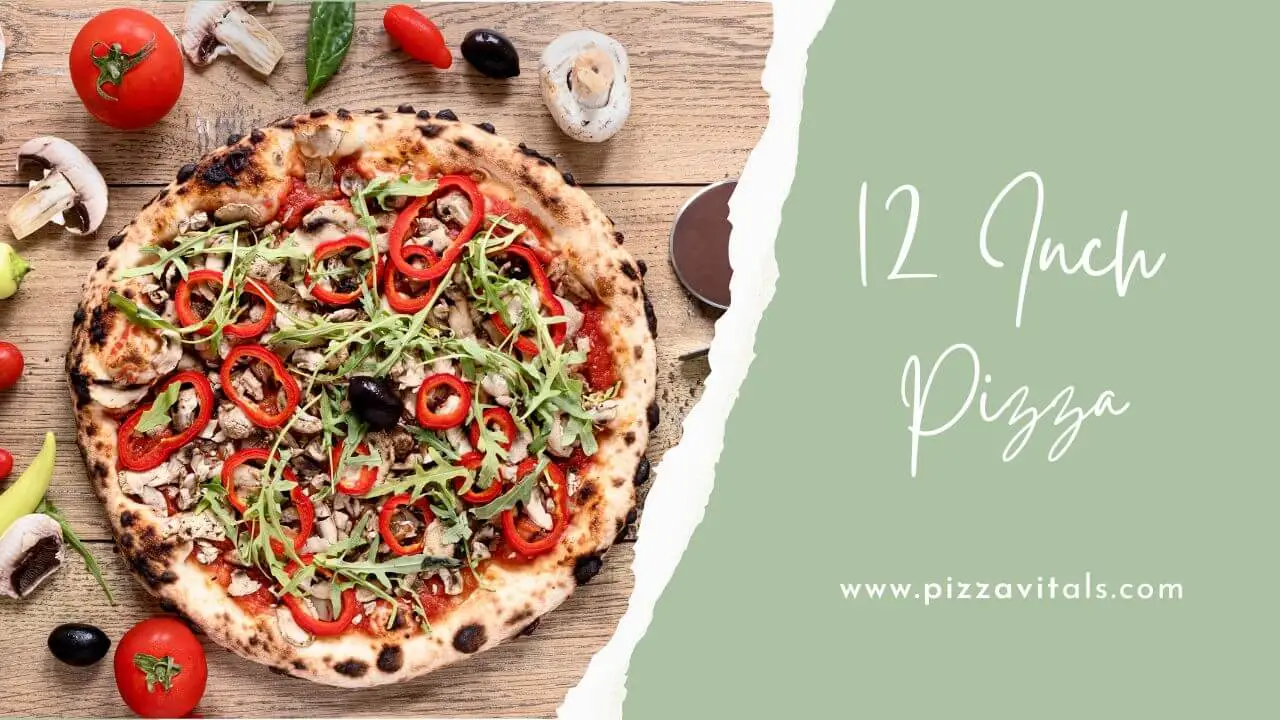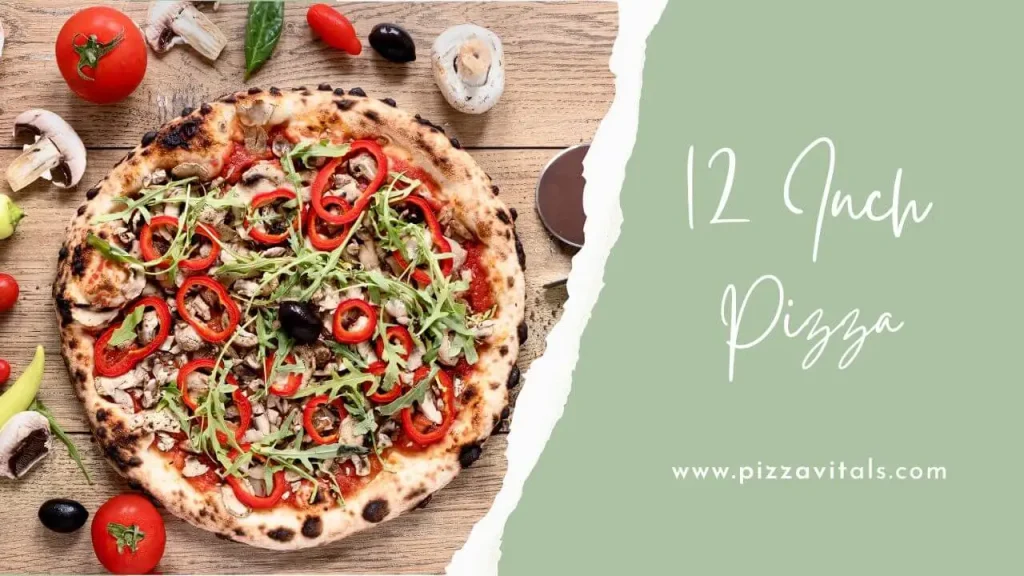 How big is a 12 inch pizza?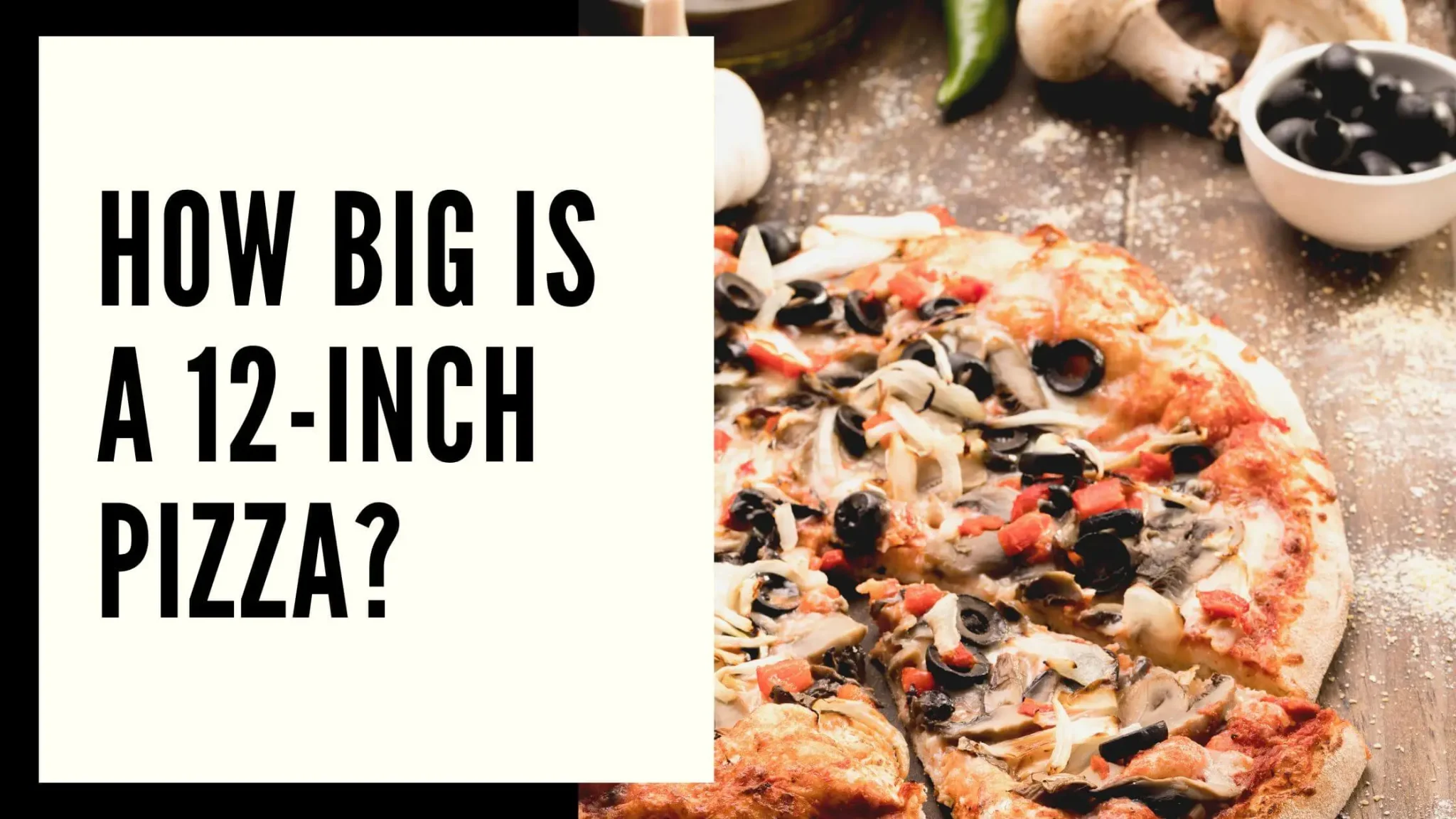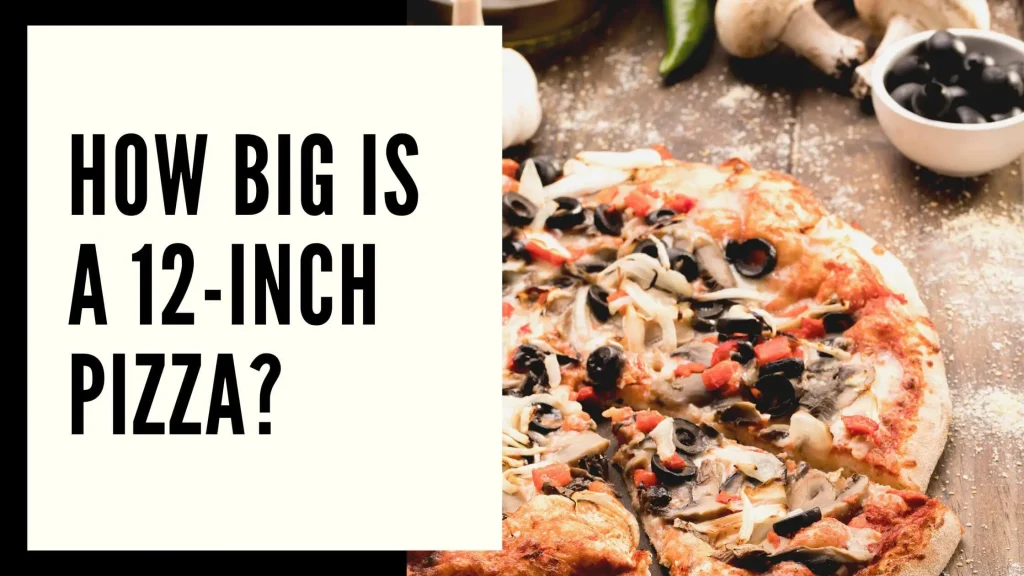 12-inch pizza is a medium-sized pizza that typically serves two to four people. This is one of the most popular sizes for commercial and home use. How big is it? This pizza has an estimated total area of 113.1 square inches. The average slice size of a 12-inch pizza is 14 square inches, making this size ideal for those looking to feed a crowd or enjoy leftovers the next day.
Benefits of eating 12 Inch Pizza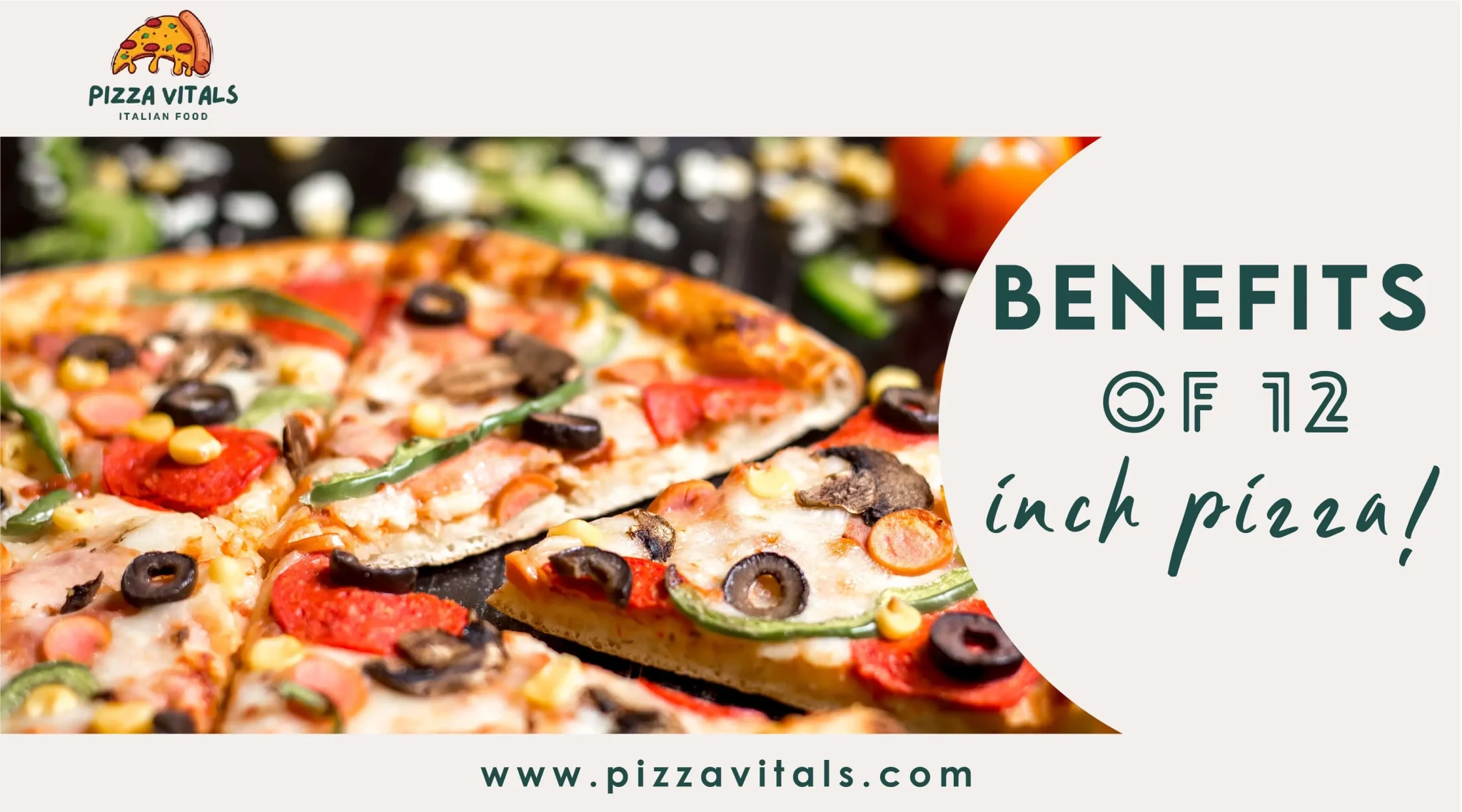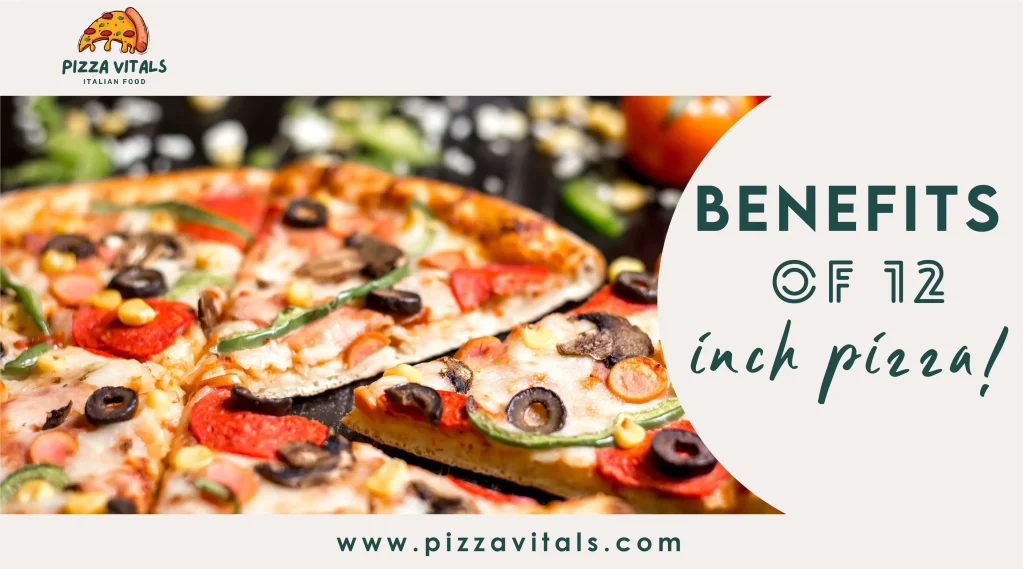 It provides a wide range of advantages. For starters, they are more economical than smaller pizza sizes because they come with more pizza per pie. Additionally, 12-inch pizzas are perfect for sharing with loved ones or close friends so that everyone may indulge in the same mouthwatering toppings and flavors.
Additionally, these pizzas can be eaten over several meals because they are often larger than individual servings. They are, therefore, perfect for gatherings of many people, such as parties. These are excellent for developing distinctive flavor combinations because of their vast size, which can hold a variety of toppings.
These pizzas are a fantastic choice for people who wish to spend less money and eat a pleasant supper with others.
Types of 12-Inch Pizza
Several types of 12-inch pizzas can be made, each with unique characteristics.
Margherita: A classic Italian pizza with a thin crust, topped with tomato sauce, mozzarella cheese, and fresh basil leaves.
Pepperoni: This is a classic American pizza featuring a tomato sauce base, mozzarella cheese, and slices of pepperoni, which is a spicy Italian sausage.
Hawaiian: A controversial yet popular choice, it typically consists of ham, pineapple chunks, tomato sauce, and mozzarella cheese. Some variations may include bacon or additional toppings.
Veggie: A vegetarian option loaded with various vegetables such as bell peppers, onions, mushrooms, olives, and tomatoes. It may also include spinach or other greens.
BBQ Chicken: This pizza features a barbecue sauce base instead of traditional tomato sauce, topped with cooked chicken pieces, red onions, and sometimes additional ingredients like bacon or cilantro.
Meat Lovers: As the name suggests, this pizza is packed with different types of meats such as pepperoni, sausage, bacon, ham, and sometimes ground beef or chicken.
Four Cheese: A cheesy delight, it typically includes a combination of mozzarella, cheddar, Parmesan, and either feta or blue cheese. The cheese blend can vary based on personal preference.
Buffalo Chicken: Inspired by buffalo chicken wings, this pizza is topped with spicy buffalo sauce, cooked chicken pieces, red onions, and sometimes blue cheese or ranch dressing.
Mediterranean: A pizza that incorporates Mediterranean flavors, it often includes toppings like olives, artichoke hearts, sun-dried tomatoes, feta cheese, and a drizzle of olive oil.
Barbecue Pork: This pizza features a tangy barbecue sauce base, topped with cooked pulled pork, red onions, and sometimes additional ingredients like pineapple or jalapeños.
These are just a few examples of the various types of 12-inch pizzas available. Different regions and restaurants may have their own unique creations and variations on these classic styles.
Best Practices for Making "the Perfect Pizza"
Here are some best practices for making the perfect pizza:
Choosing The Right Ingredients
Using high-quality ingredients can make a big difference in the final product. This includes choosing the flour for the dough, selecting fresh and flavorful toppings, and using good-quality cheese.
Preparing The Dough Correctly
It's essential to follow the instructions for preparing it carefully to achieve the desired texture and flavor. This may involve mixing and kneading the dough for a particular time, allowing it to rise, and shaping it into the desired size and thickness.
Baking Directions for Achieving the Perfect Texture and crunchiness
Ensuring the crust has the proper crunch and texture by carefully following the baking instructions can assist. Depending on the amount of doneness needed, this may entail preheating the oven to the appropriate temperature, using a pizza stone or pan, and modifying the cooking time and temperature.
Adding A Variety Of Toppings For Flavor And Texture
Experimenting with different topping combinations can help to add flavour and texture to your pizza. This may involve using a variety of meats, vegetables, cheeses, and sauces.
Cooking Time And Temperature For Various Types Of Pizzas
Various pizzas may require different cooking times and temperatures to achieve the desired level of doneness. It's essential to follow the instructions for the specific type of pizza you are making in order to achieve the best results.
Tips On Cutting, Serving, And Storing Your Pizza Creations
Remember a few things when cutting, helping, and keeping your pizza. To cut the pizza, it's a good idea to use a sharp knife or a pizza cutter. To do the pizza, you can either slice it into wedges or cut it into squares. If you have leftovers, it's best to store them in the refrigerator and reheat them before serving.
By following these best practices and experimenting with different crusts, toppings, and techniques, you can create delicious and satisfying pizzas that will surely be a hit with your friends and family.
Recipe for 12-Inch Pizza
Preparing the dough is the first step in creating your own pizza. You can either use store-bought dough or easily make your own using essential pantry ingredients such as flour, yeast, sugar, and salt. Once the dough is ready, roll it out on a lightly floured surface until it reaches about 1/4 inch thick and 12 inches in diameter — this will be the base of your pizza.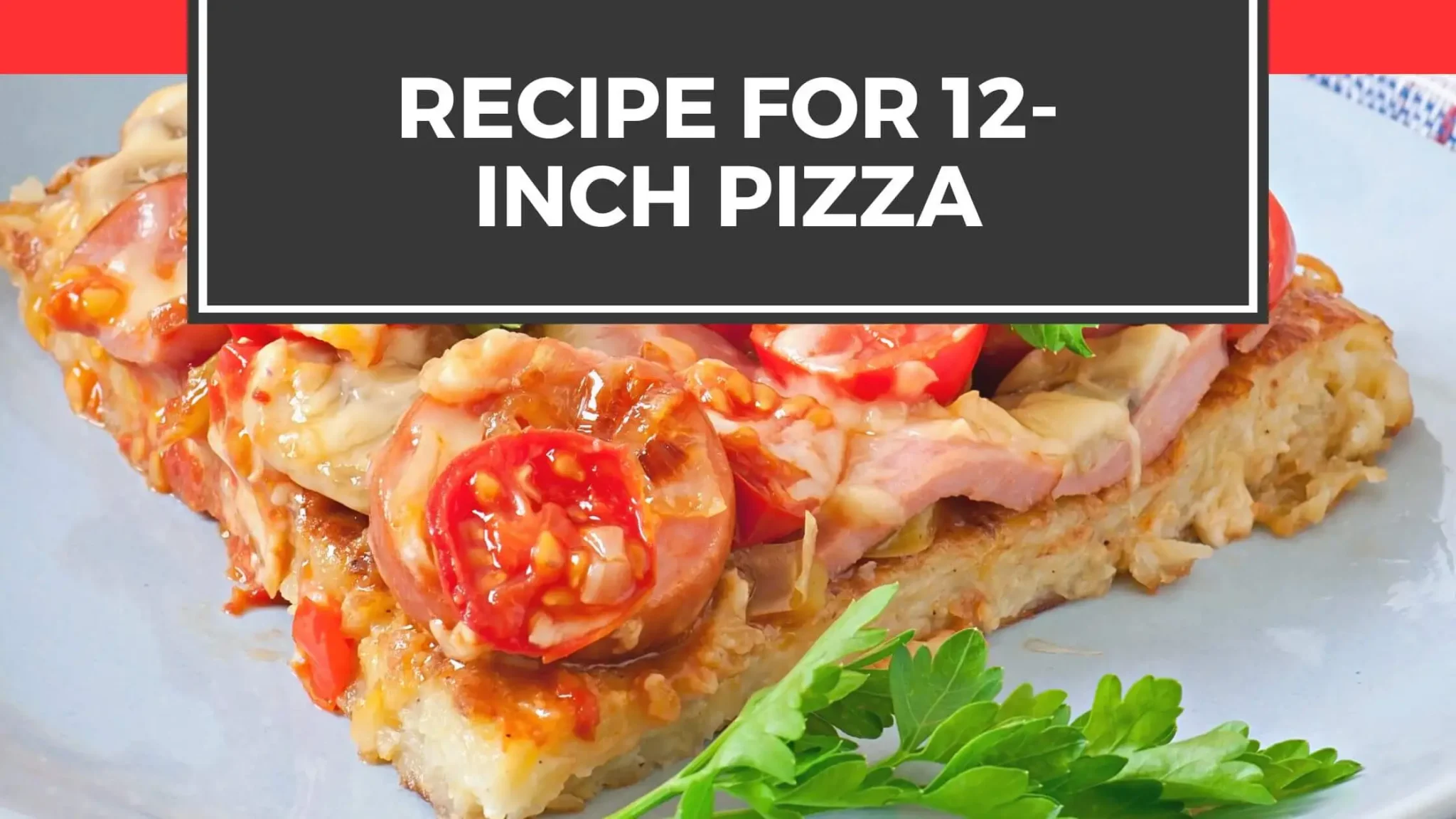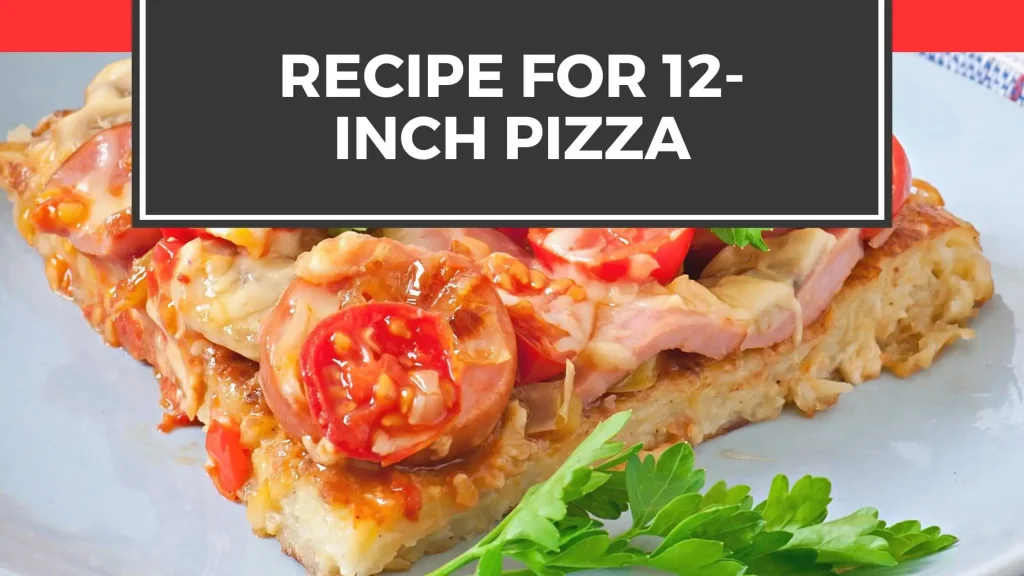 Timing:
rep: 15 mins
Cook: 20 mins
Proof Time: 30 mins
Total: 65 mins
Servings: 4 to 8 servings
Yield: 1 crust
Ingredients:
For the pizza dough:
2 ½ cups all-purpose flour
1 teaspoon instant yeast
1 teaspoon salt
1 teaspoon sugar
1 cup warm water
2 tablespoons olive oil
For the pizza sauce:
1 can (14 ounces) crushed tomatoes
2 cloves garlic, minced
1 teaspoon dried oregano
1 teaspoon dried basil
Salt and pepper to taste
For the toppings (feel free to customize as desired):
2 cups shredded mozzarella cheese
Pepperoni slices
Sliced bell peppers
Sliced onions
Sliced mushrooms
Any other desired toppings
Instructions:
In a large mixing bowl, combine the flour, instant yeast, salt, and sugar. Mix well.
Gradually add the warm water and olive oil to the dry ingredients. Stir until the dough starts to come together.
Transfer the dough onto a floured surface and knead for about 5-7 minutes until the dough becomes smooth and elastic. If the dough is too sticky, add a little more flour.
Place the dough in a greased bowl, cover it with a clean kitchen towel, and let it rise in a warm place for about 1 hour or until it doubles in size.
While the dough is rising, prepare the pizza sauce. In a saucepan, combine the crushed tomatoes, minced garlic, dried oregano, dried basil, salt, and pepper. Simmer the sauce over low heat for about 15-20 minutes, stirring occasionally.
Preheat your oven to 475°F (245°C).
Once the dough has risen, punch it down to release the air. Roll it out on a floured surface to fit a 12-inch pizza pan or baking sheet.
Transfer the rolled-out dough to the greased pan or baking sheet.
Spread the pizza sauce evenly over the dough, leaving a small border around the edges.
Sprinkle the shredded mozzarella cheese over the sauce, and add your desired toppings.
Place the pizza in the preheated oven and bake for about 12-15 minutes or until the crust is golden brown and the cheese has melted and bubbly.
Once cooked, remove the pizza from the oven and let it cool for a few minutes before slicing and serving.
Enjoy your homemade 12-inch pizza!
How many calories are in 12-inch pizza?
Its generous proportions can provide a substantial and satisfying meal for up to eight people. But how many calories are there in such a sizable slice of Italian-American cuisine?
Calorie count can vary depending on the toppings and size of the pizza. The number of calories ranges from as little as 300 in a plain cheese pizza to more than 800 in one with multiple toppings. A 12-inch veggie pizza with peppers, mushrooms, onions, and olives averages around 530 calories per slice, while one topped with pepperoni packs upwards of 690 calories per serving.
Whatever topping you choose, it's essential to be mindful that pizzas contain high amounts of fat and sodium, which can contribute to health issues if consumed in excess.
How Many People Do a 12-inch Pizza Feed?
It is a medium-sized pizza that can feed 2 to 4 people, depending on the number of slices desired. It is usually enough for two adults and two children. The average pizza contains eight slices so that each person can have two pieces.
If you are serving a party or gathering, you should get a larger size to ensure everyone gets enough. This size will also work if you plan to have leftovers the next day.
Additionally, with the correct toppings, you can create a delicious meal everyone will enjoy.
12-inch Pizza weight
12 inch pizza can weigh anywhere between 11 to 17 ounces. The pizza's weight depends on the toppings and type of crust used. A thin crust will usually weigh less than a thick or deep-dish crust. Toppings can add between 3 to 8 ounces depending on how many are added.
A typical 12 inch cheese pizza with marinara sauce weighs about 15 ounces, while a thicker-crust pepperoni pizza weighs about 18 ounces. Some restaurants also offer a stuffed-crust option which adds 2 – 4 ounces of weight. Regardless of the fillings, it is enough to feed two to four people when served with salad and other sides.
12 inch Pizza Dough Weight
The weight of the dough for a 12 inch pizza varies depending on the type and thickness of the crust. Generally, thin-crust pizzas usually have 8-12 ounces of dough, while thicker-crust pizzas have around 12-16 ounces. However, these figures are just estimates, and the dough weight may differ according to the recipe and cooking techniques. Therefore, it is essential to measure the dough precisely to create a consistent and excellent pizza.
12-inch pizza size comparison
Here is a comparison of the size of a 12-inch pizza to other standard pizza sizes:
As you can see, it is considered a medium or large size designed to feed a group of people. It is more significant than a small pizza but smaller than an extra-large pizza.
Know the average price of 12 inch pizza
Some Amazing Facts About Pizza You May Want To Know:
How To Order A Pizza
You can order pizza online or at a nearby pizza hut. It depends on your choice.
Decide Where To Order From: You can request a pizza from a local pizzeria, a national chain, or online from a food delivery service. Consider factors such as location, price, and menu options when deciding.
Choose The Pizza Size: Pizzas are typically available in small, medium, and large sizes, as well as extra-large and even larger sizes. Consider how many people you feed and their appetites when deciding the pizza size.
Select The Type Of Crust: Most pizzerias offer a choice of crusts, such as thin, thick, or stuffed. Consider your personal preference and any dietary restrictions when choosing a crust.
Choose Your Toppings: Many pizzerias offer a wide range of toppings, including meats, vegetables, cheeses, and sauces. Consider your personal preferences and any dietary restrictions when selecting toppings.
Place Your Order: Once you have decided on the size, crust, and toppings for your pizza, it's time to place your order. You can do this by phone, online, or in person at the pizzeria. Be sure to provide your contact information and any special instructions for the order.
Wait For Your Pizza To Be Delivered Or Pick It Up:  Depending on the method you choose for ordering, you may need to wait for your pizza to be delivered to your home or pick it up from the pizzeria. Be sure to have payment ready when your pizza arrives.
FAQ's
Final thoughts:
A hot, cheesy pizza is a beloved treat around the world. But have you ever wondered exactly how big a 12-inch pizza is? The size of a 12 inch pizza can vary from restaurant to restaurant and even crust to crust. In this article, We already mention the pizza size and what you need to make it at home.