Pizza, with its tasty mix of dough, sauce, cheese, and toppings, is a much-loved food that people all over the world really enjoy. Among the many pizza styles that exist, Brooklyn style pizza stands out as a unique and iconic variant that has a cult following. In this article, we will explore the origins, characteristics, and secrets behind the irresistible allure of Brooklyn style pizza. So, if you're curious about what makes this pizza special, keep reading to embark on a mouthwatering journey through the heart of Brooklyn. Let's find out together "What is Brooklyn Style Pizza?"
Brooklyn Style Pizza Roots
Brooklyn style pizza, also known simply as "Brooklyn pizza," has deep roots in the borough of Brooklyn, New York. It's essential to understand that Brooklyn, a borough of New York City, has a rich cultural and culinary history. It's a melting pot of different ethnicities and traditions, and this diversity has played a pivotal role in shaping the local cuisine.
The early 20th century was a crucial period for the evolution of pizza in the United States. The influx of Italian immigrants during this time brought their culinary traditions, including the art of pizza-making, to American shores. In the heart of Brooklyn, the Italian community thrived and began experimenting with their pizza recipes.
What is Brooklyn Style Pizza?
The distinctive character of Brooklyn style pizza was forged during this time, combining the traditional techniques of Neapolitan pizza with American influences. It's a style that can be described as a hybrid, blending the best of both worlds to create a truly unique and beloved pizza experience.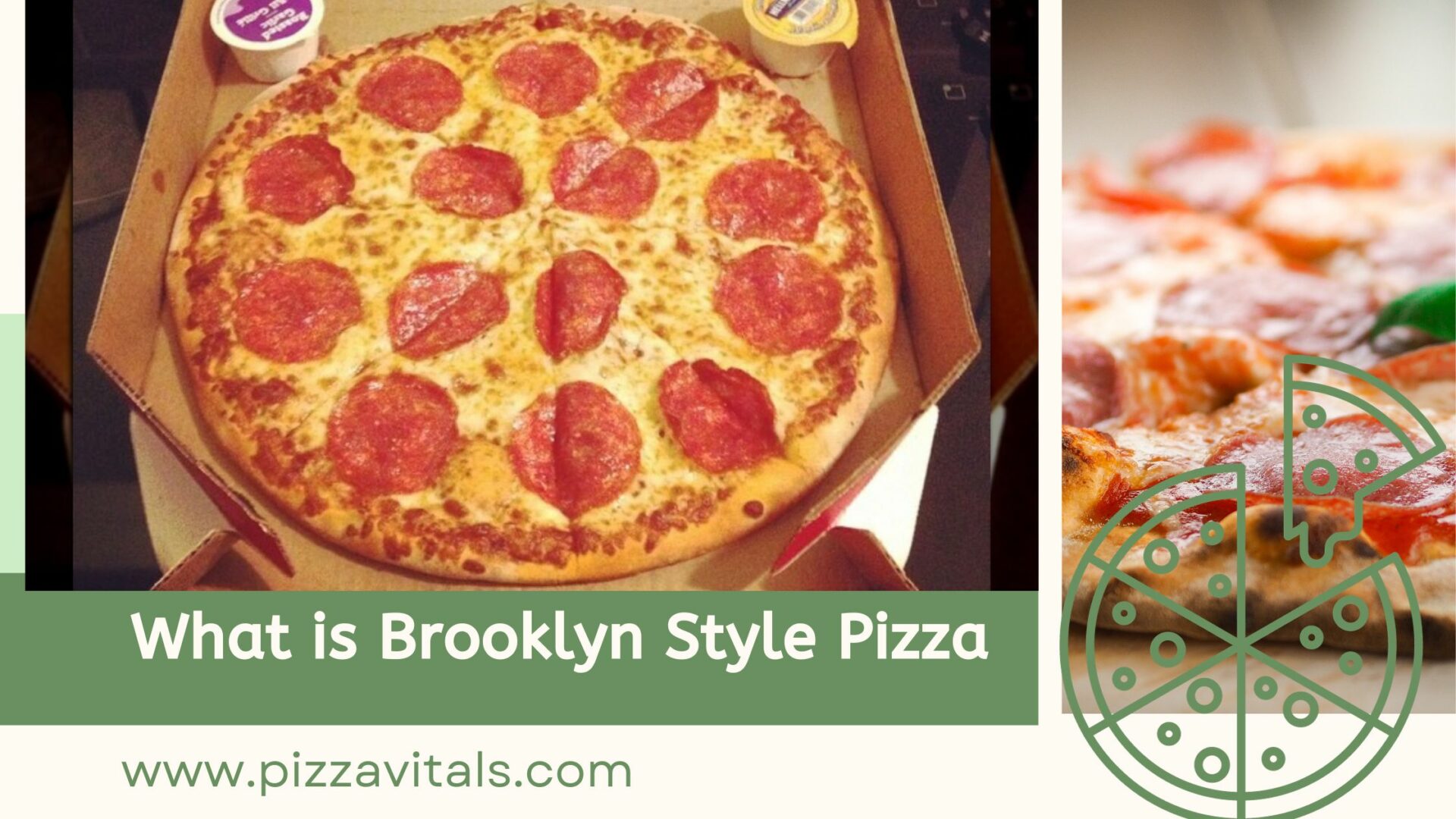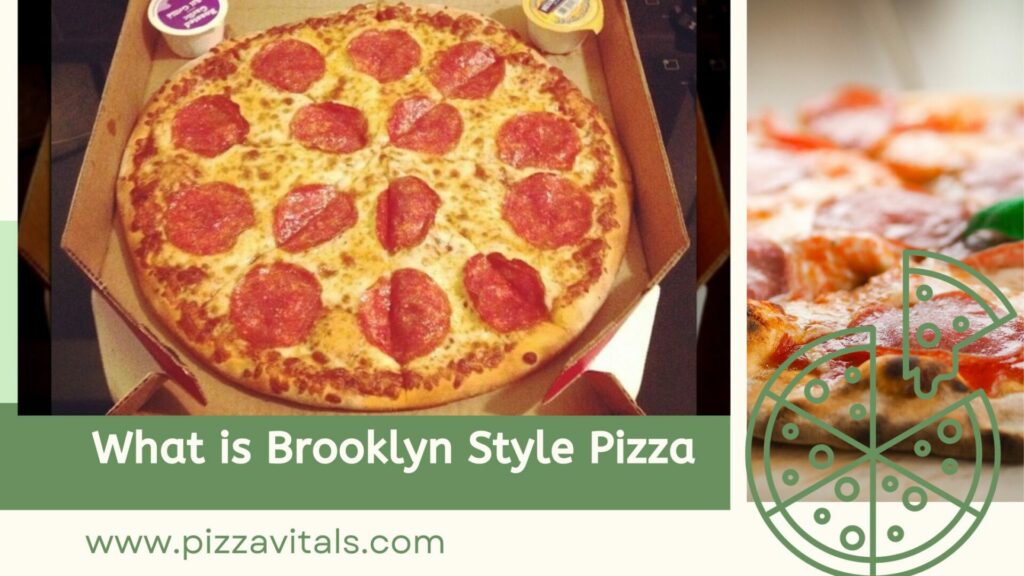 Key Characteristics of Brooklyn Style Pizza
The hallmark of Brooklyn style pizza is its thin, crisp crust. The dough is rolled out to a thin, even consistency, resulting in a delicate yet sturdy base for the toppings. This crust is both crispy and slightly chewy, making it the perfect canvas for the toppings that follow.
Brooklyn style pizza dough is traditionally hand-tossed, a technique that requires a skilled pizzaiolo (pizza maker) to stretch and shape the dough using their hands. This process not only gives the pizza its characteristic irregular shape but also imparts a sense of artistry to the craft.
The simplicity of Brooklyn style pizza is one of its charms. The focus is on using high-quality, fresh ingredients. San Marzano tomatoes are often used for the sauce, and mozzarella cheese, preferably whole milk, is grated fresh and generously spread across the pizza. Toppings range from classic options like pepperoni and mushrooms to more adventurous choices.
One of the distinguishing features of Brooklyn style pizza is its foldability. The thin crust allows the pizza to be easily folded in half, making it a convenient, on-the-go meal. This foldability is something that New Yorkers take pride in and is a testament to the pizza's authenticity.
Brooklyn style pizza is traditionally cooked in a deck oven, which imparts a slight char to the underside of the crust. The high, consistent heat of these ovens ensures that the pizza cooks quickly and evenly, creating the perfect combination of crispy and chewy.
The Debate: New York vs. Brooklyn Style
Brooklyn style pizza is often categorized under the broader label of "New York style pizza." However, it's important to note that there is a spirited debate about whether Brooklyn style is distinct enough to be considered separate from New York style. New York style pizza is typically characterized by its thin, wide slices that are often served on paper plates and folded in half for convenience. The debate arises because the characteristics of Brooklyn style pizza, including its thin, hand-tossed crust and emphasis on high-quality ingredients, make it a distinct variation within the New York pizza tradition.
Brooklyn's Impact on Pizza Culture
Brooklyn style pizza has made a significant impact on pizza culture, not only in the United States but around the world. Its reputation for delicious simplicity has led to the proliferation of pizzerias, both in Brooklyn and beyond, seeking to emulate this unique style. As a result, Brooklyn style pizza can now be enjoyed in many corners of the globe.
The Brooklyn pizzeria scene is a vibrant and competitive one, with countless establishments vying to serve the best slice in town. Iconic pizzerias like Di Fara Pizza in Midwood, Grimaldi's Pizzeria in DUMBO, and Totonno's Pizzeria in Coney Island have been recognized not only for their incredible pizzas but also for their rich histories and dedicated followings.
The Influence of Brooklyn Style Pizza on Modern Pizzerias
Beyond New York and Brooklyn, Brooklyn style pizza has influenced countless modern pizzerias worldwide. This style's characteristics, including the thin crust and emphasis on high-quality ingredients, have become popular not just in the United States but internationally. Pizzerias in countries far and wide have adopted elements of Brooklyn style, resulting in a global appreciation for this unique pizza.
Brooklyn style pizza has even influenced major pizza chains, some of which now offer Brooklyn style pizza as an option on their menus. The desire to replicate the classic taste of Brooklyn style pizza is a testament to its enduring popularity.
The Brooklyn Style Pizza Experience
To truly appreciate Brooklyn style pizza, it's not just about the ingredients and techniques; it's also about the experience. Enjoying a slice of Brooklyn style pizza is about more than satisfying your hunger; it's about embracing a culinary tradition and a slice of New York's rich cultural history.
When you walk into a Brooklyn pizzeria, you'll likely be greeted by the enticing aroma of baking pizza and the rhythmic motions of a skilled pizzaiolo crafting pies. The atmosphere is often cozy and bustling, with locals and tourists alike gathering to savor this culinary delight.
One cannot forget the etiquette of eating Brooklyn style pizza. It's a hands-on affair, quite literally. You pick up a slice, fold it in half, and take a bite. The fold is a necessity, allowing you to hold the slice without the toppings sliding off. It's an experience that locals and pizza enthusiasts worldwide cherish.
The Secret Sauce: Brooklyn Style Pizza at Home
If you're outside of Brooklyn or New York, fear not, as you can still enjoy the deliciousness of Brooklyn style pizza in the comfort of your home. While nothing beats the authenticity of a slice from a Brooklyn pizzeria, making your own version of Brooklyn style pizza can be a rewarding and mouthwatering experience.
Here's a simple recipe to get you started:
Ingredients:
Pizza dough (store-bought or homemade)
1/2 cup tomato sauce (preferably San Marzano tomatoes)
8 ounces whole milk mozzarella cheese, grated
Olive oil
Toppings of your choice (pepperoni, mushrooms, olives, etc.)
Fresh basil leaves
Salt and pepper to taste
Red pepper flakes (optional, for added heat)
Instructions
Preheat your oven to its highest temperature (usually around 500°F or 260°C).If you possess a pizza stone, place it inside the oven as it heats up.
Roll out the pizza dough to your desired thickness on a lightly floured surface. Aim for a thin, even crust.
Carefully transfer the rolled-out dough to a pizza peel or an inverted baking sheet dusted with cornmeal or flour.
Brush the dough with olive oil, leaving a small border around the edge. This helps create a golden, crispy crust.
Distribute the tomato sauce uniformly on the dough, making sure to maintain a slight gap around the edges.
Sprinkle the grated mozzarella cheese over the sauce.
Add your chosen toppings, distributing them evenly.
Season with salt, pepper, and, if you like some heat, red pepper flakes.
Carefully slide the pizza onto the preheated pizza stone in the oven (if using one). If not, place it directly on a baking sheet or pizza pan.
Bake for 10-12 minutes, or until the crust is golden and the cheese is bubbly and slightly browned.
Remove the pizza from the oven and let it cool for a minute. Sprinkle fresh basil leaves over the hot pizza.
Slice, fold, and enjoy your homemade Brooklyn style pizza!
Wrapping Up
Brooklyn style pizza is more than just a delicious food; it's a cultural icon with deep roots in the diverse borough of Brooklyn. Its thin, crispy crust and emphasis on high-quality ingredients have made it a beloved style of pizza worldwide. Whether you're in Brooklyn, New York, or anywhere else on the planet, you can appreciate the unique and delectable qualities of Brooklyn style pizza. So, the next time you're craving a slice of history and a burst of flavor, order or make yourself a Brooklyn style pizza and savor every foldable, flavorful bite.