Imagine a Friday night when the air is filled with the heavenly aroma of freshly baked pizza. As you grab a slice, your taste buds tingle with anticipation, savoring that perfect balance of gooey cheese, savory sauce, and mouthwatering toppings. Ah, the joy of homemade pizza! But suddenly, a question arises: Is cooking pizza on aluminum foil a good option? Don't let this question spoil your pizza night. Let's explore whether or not it's safe to use aluminum foil when cooking your pizza.
This versatile kitchen staple has become a go-to for home chefs, including myself, when perfecting pizza. With aluminum foil as your secret weapon, you can ensure that your pizza always comes out flawlessly. Let me guide you through the world of cooking pizza on aluminum foil.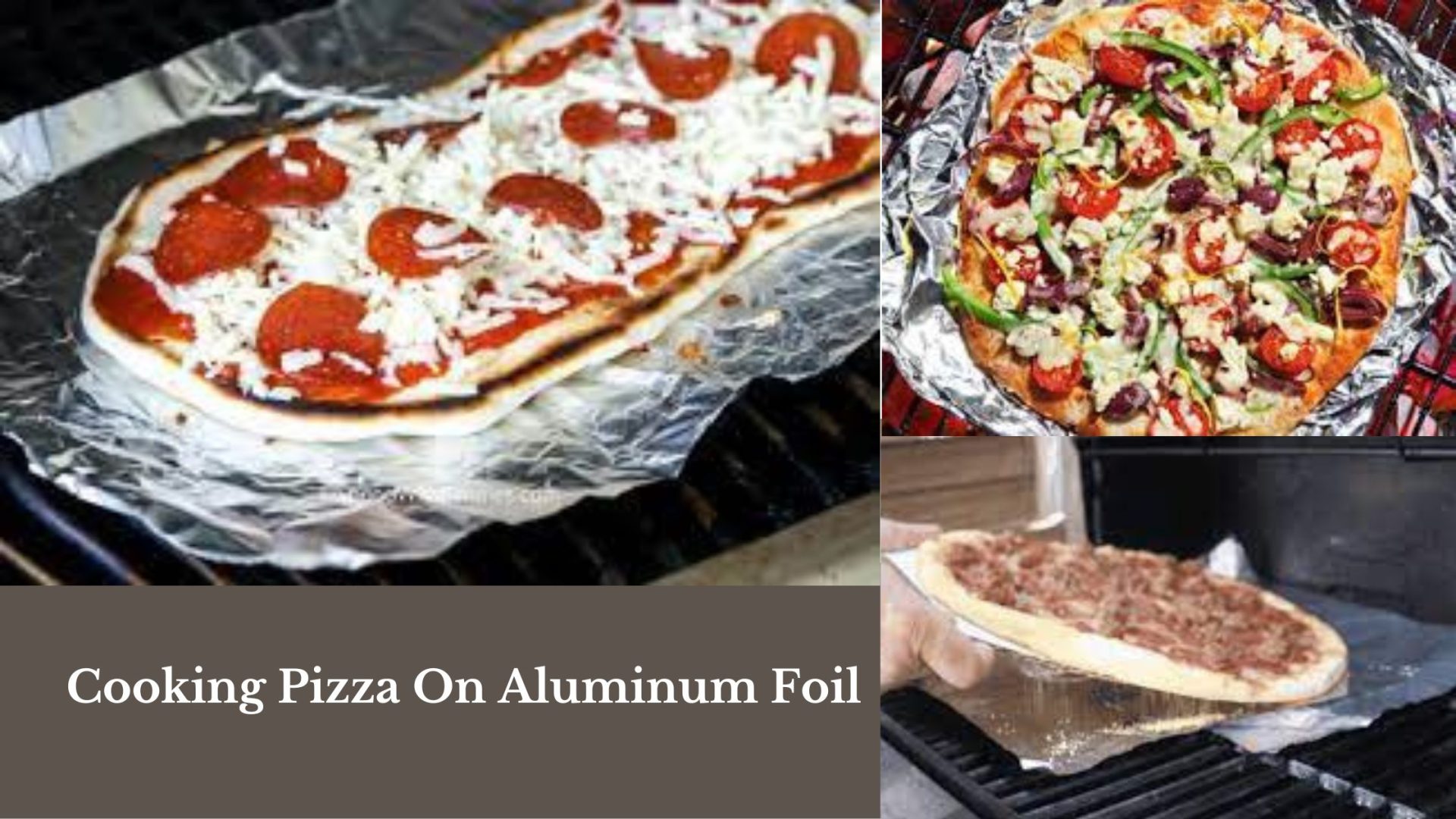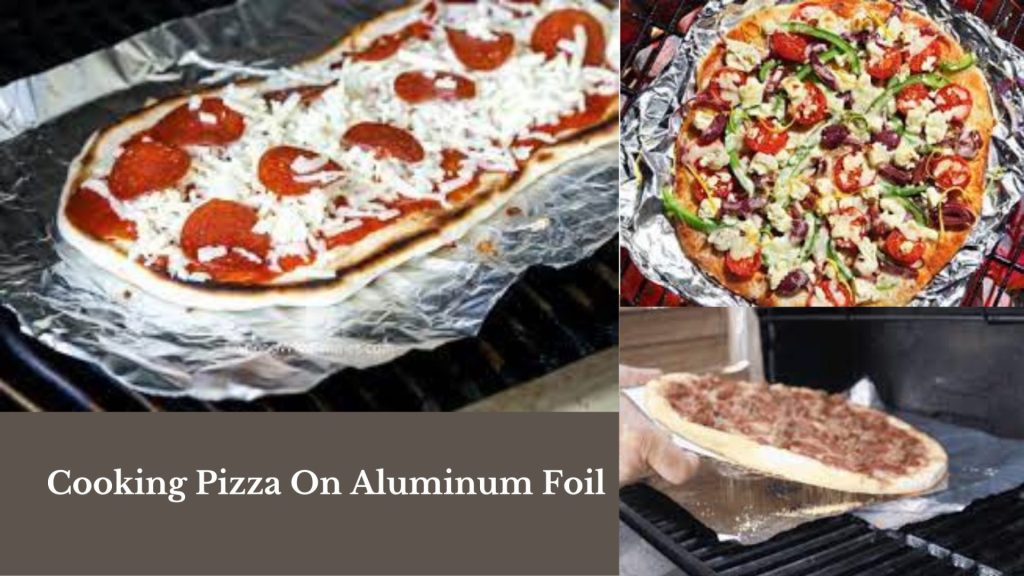 Before we dive into the details, let me share a little story with you. Just the other day, I was craving a cheesy pizza, and I decided to make one from scratch. I rolled out the pizza dough, topped it with all my favorite ingredients, and placed it in the oven. However, my excitement turned into disappointment as I saw the cheese sticking to the pan, and my pizza was not looking perfect anymore.
But then, I discovered the magic of using aluminum foil. With just a simple switch to this shiny savior, my pizzas began sliding off the pan without any sticking. It was like a culinary miracle unfolding right in front of me. Now, you might wonder if cooking pizza on aluminum foil is safe. Well, let me assure you that it's perfectly safe! Aluminum foil has undergone rigorous testing and is suitable for cooking delicious pizzas. So, let go of your worries and join me as we dive deeper into aluminum foil pizza perfection.
Is it Safe Cooking Pizza on Aluminum Foil?
Cooking pizza on aluminum foil is generally safe and convenient if you follow some precautions. Aluminum foil is a heat-resistant and non-toxic material that can withstand high temperatures, which makes it a popular choice for cooking and baking. However, some factors can affect the safety and quality of your pizza when using aluminum foil.
Understanding the Safety Measures
Aluminum is a cooking material favored by millions of people worldwide. It is strong, lightweight, and offers excellent heat conductivity. In the case of cooking pizza, aluminum foil is a great choice because it reflects the heat from the oven directly to the pizza base, resulting in a crispy crust. Additionally, aluminum foil is a shield to prevent spills and drips from messing up your oven.
Risk Factors
Cooking pizza on aluminum foil can pose some safety concerns. The non-stick material coating aluminum foil can contain harmful chemicals, such as PTFE or PFOA, which may seep into the food and cause health problems. As a precaution, it is recommended to avoid storing acidic or spicy foods on aluminum foil. Additionally, aluminum is a reactive metal and can react with acidic or salty ingredients, resulting in an unpleasant metallic taste. It's important to be mindful of these potential risks when using aluminum foil in cooking.
Precautions
There are a few things to consider to minimize the risk of cooking pizza on aluminum foil. Use high-quality aluminum foil made for cooking; avoid storing acidic or spicy food on the foil, and never cook pizza directly without any grease or oil.
How To Keep Pizza From Sticking to Aluminum Foil
There's nothing more disappointing than eagerly anticipating a delicious homemade pizza, only to find it sticking to the aluminum foil. But fear not! With a few simple techniques, you can ensure that your pizza slides off the foil effortlessly, leaving you with a perfect culinary creation. Here are some practical tips to prevent pizza from sticking to aluminum foil: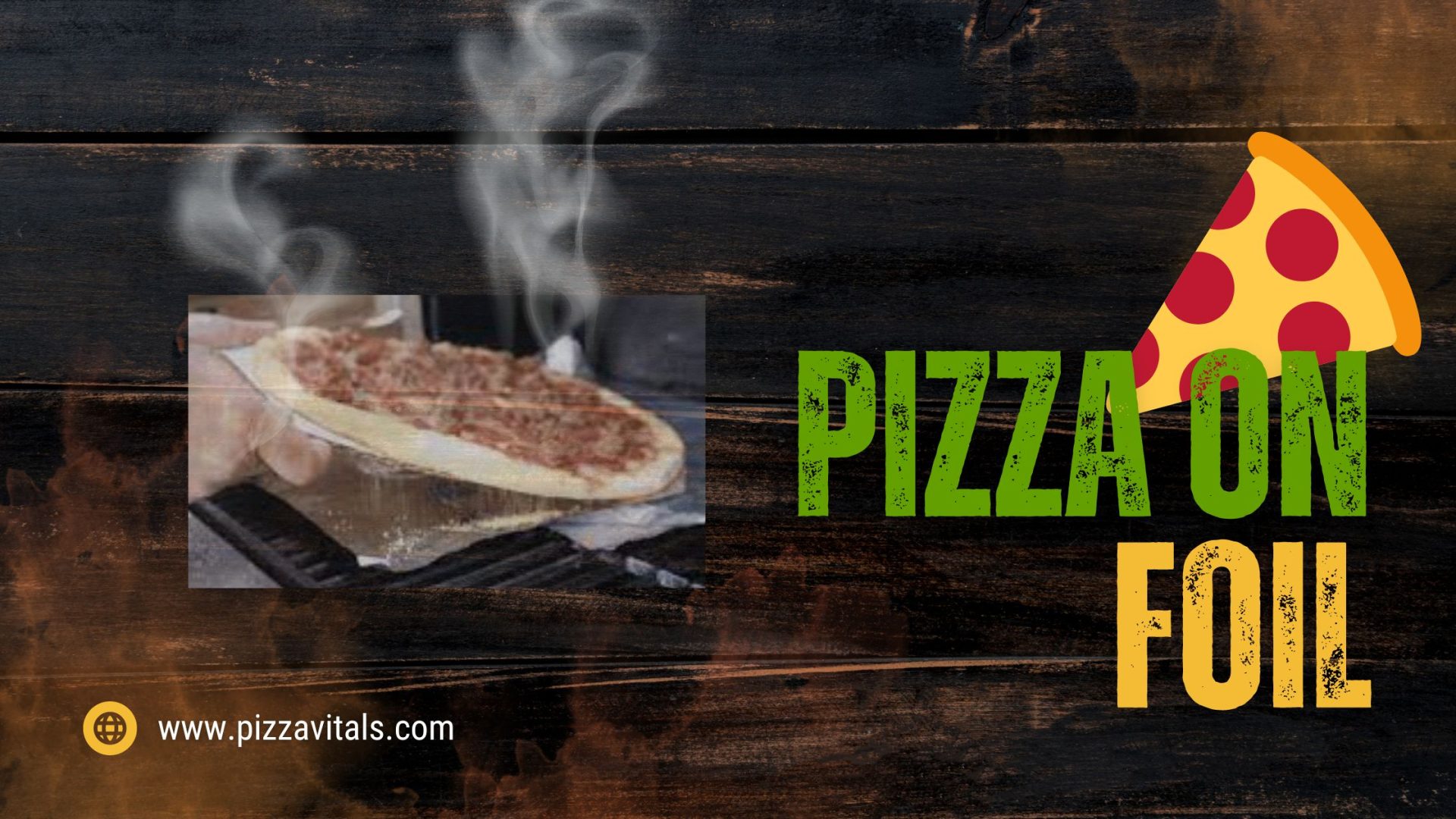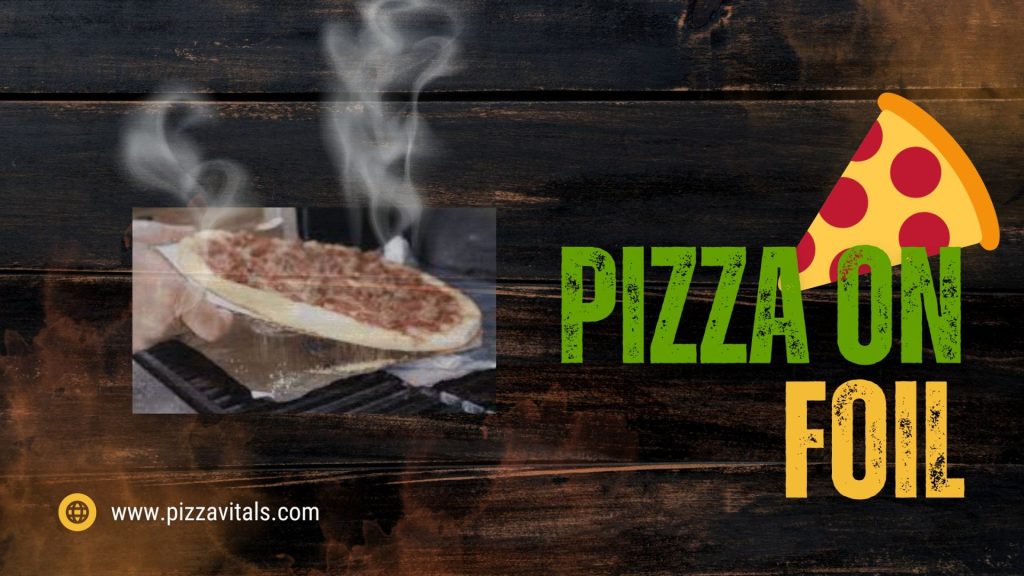 Should I Cook Pizza on Foil or Paper?
When cooking pizza, you have options beyond just aluminum foil. Another popular choice is parchment paper. Let's compare the use of aluminum foil and parchment paper for cooking pizza, discussing their advantages and disadvantages to help you decide which method suits your needs:
Factors to Consider While Choosing
When choosing between aluminum foil and parchment paper, consider the toppings you plan to use. Using juicy ingredients like tomatoes or pineapples, aluminum foil is preferable because the juices do not seep through. Parchment paper is more suited for dry toppings like cheese.
Aluminum foil Advantages
Excellent heat conduction: Aluminum foil evenly distributes heat, producing a crispy crust and well-cooked toppings.
Non-stick surface: Foil helps prevent sticking, making removing the pizza from the cooking surface easier.
Versatility: Aluminum foil is readily available and can be used for various cooking purposes beyond pizza.
Aluminum Foil Disadvantages
Limited browning: The foil acts as a barrier, reducing direct heat exposure, which may result in less browning on the bottom of the crust.
Slightly longer cooking time: Due to the insulating properties of the foil, pizzas cooked on foil may require a slightly longer cooking time.
Parchment Paper Advantages
Easy cleanup: Parchment paper provides a non-stick surface, preventing the pizza from sticking to the cooking surface and facilitating effortless cleanup.
Browning enhancement: Parchment paper allows the bottom of the pizza crust to brown more evenly by allowing direct heat contact.
Quick release: Pizzas cooked on parchment paper can be easily transferred to a serving platter or cutting board without any sticking.
Parchment Paper Disadvantages
Limited heat conduction: Parchment paper is not as effective at conducting heat as aluminum foil, potentially resulting in a less crispy crust.
Potential for scorching: Parchment paper may brown or even scorch if exposed to high heat for an extended period.
The choice between aluminum foil and parchment paper depends on your preferences and available resources. If you prioritize even heat distribution and ease of removal, aluminum foil is an excellent option. On the other hand, if easy cleanup and enhanced browning are more important to you, parchment paper may be the way to go.
Remember, you can also experiment with combining both methods. You can place a sheet of parchment paper on top of the foil, reaping the benefits of both materials.
FAQs
Wrapping Up
Cooking pizza on aluminum foil is a safe method that has undergone extensive testing and approval for cooking purposes. To avoid sticking, there are several techniques you can use such as greasing the foil, using cooking spray, or combining parchment paper with foil for a non-stick surface. It is important to follow general guidelines for cooking time considering the thickness of the crust and the toppings. Aluminum foil is a versatile material that offers excellent heat conduction, while parchment paper provides easy cleanup and enhanced browning. You can experiment with different methods to unleash your creativity in the kitchen. Therefore, gather your ingredients, preheat the oven, and enjoy the process of cooking delicious pizzas on aluminum foil. The possibilities are endless, so happy pizza-making!