When it comes to reheating pizza, the age-old question occasionally pops up: Can you put a pizza box in the oven? It might seem like a convenient way to warm up your leftover slices, but is it safe? If you've ever found yourself pondering this question, you're not alone. Many people wonder if it's safe or even possible to place a pizza box in the oven. After all, it's made of cardboard, right? Well, let's dive into the details and explore whether or not this is a feasible option.
Can You Put A Pizza Box In The Oven
The short answer is no, you should not put a pizza box in the oven. While it may seem like a convenient solution to heating up your leftover pizza, it can actually pose several risks. Pizza boxes are typically made of cardboard, and cardboard is highly flammable. Placing it in the oven can lead to a potential fire hazard, putting both your safety and your kitchen at risk.
If you're short on time or prefer a different method, you can also reheat your pizza on the stovetop. Simply place a non-stick pan over medium heat, add your pizza slices, and cover the pan with a lid. This method helps retain the moisture and prevents the crust from becoming too crispy.
Alternatively, you can use a microwave to reheat your pizza. Place the pizza slices on a microwave-safe plate and heat them in short intervals, checking for doneness after each interval. While this method may result in a softer crust, it's a quick and convenient option when time is of the essence.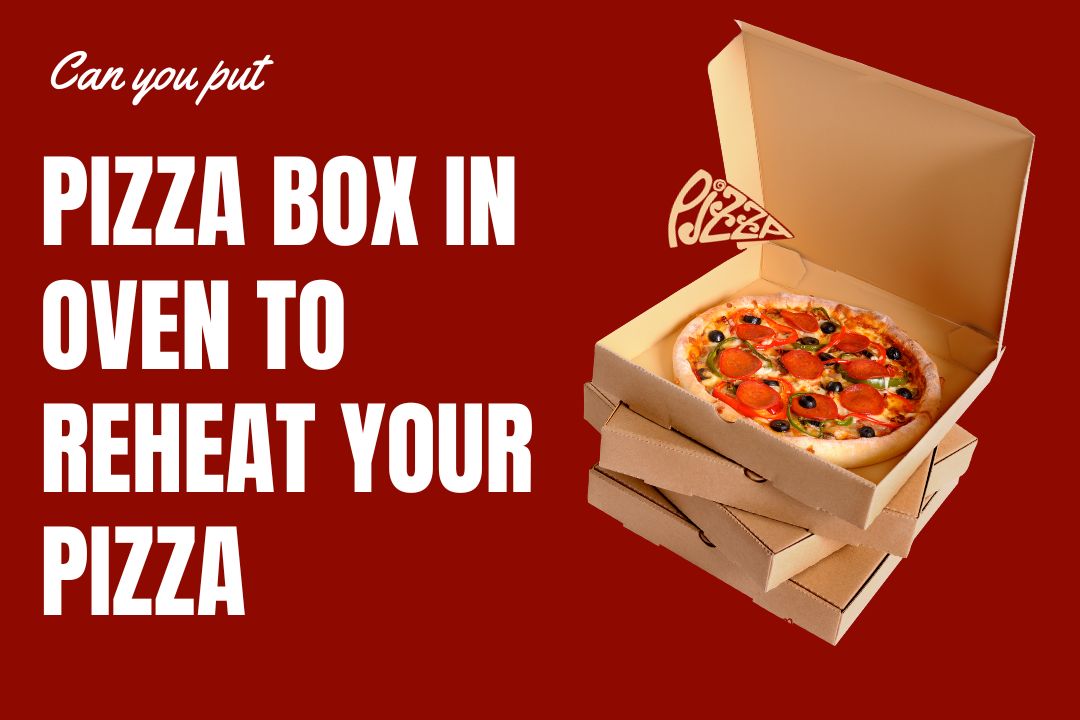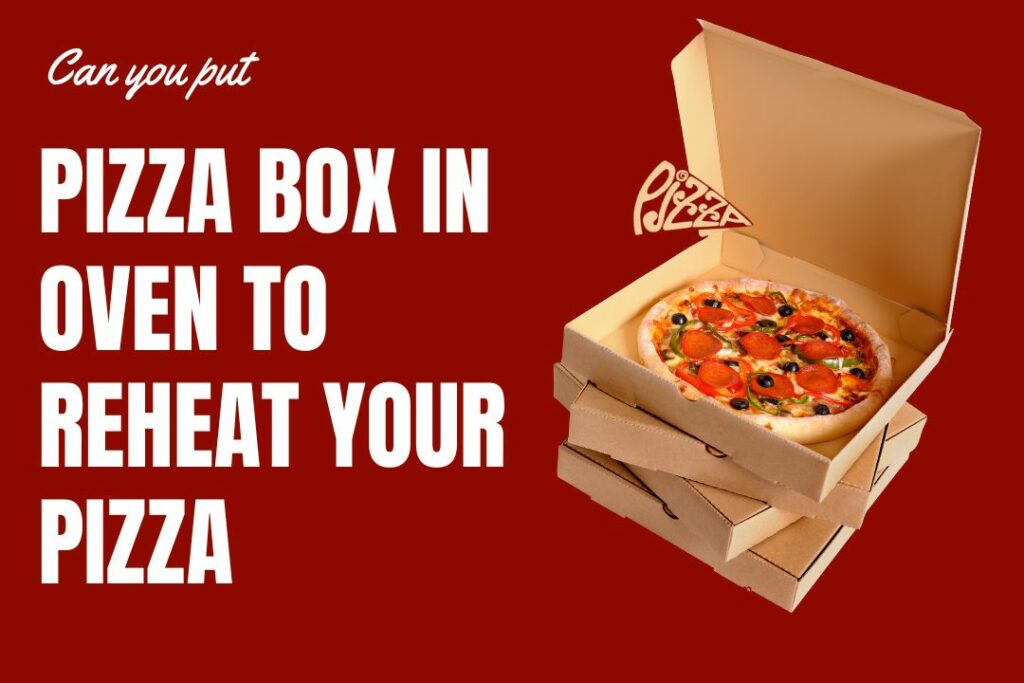 Reasons Why Not to Put a Pizza Box in the Oven
Fire Hazard
First and foremost, one of the most compelling reasons not to place a pizza box in the oven is the risk of a fire hazard. Pizza boxes are typically made from cardboard, and cardboard is highly flammable. When exposed to the direct heat of an oven, the cardboard can catch fire, which can quickly escalate into a dangerous situation.
Toxic Fumes
Cardboard, when heated, releases toxic fumes. These fumes can be harmful if inhaled and may contain various chemicals used in the production of cardboard, adhesives, or inks. Inhaling such fumes can lead to respiratory issues and other health concerns.
Food Contamination
Reheating pizza in its original box might seem like a convenient option, but it can lead to food contamination. When the cardboard gets hot, it can release oils, inks, or other substances that may transfer onto your pizza, making it unsafe to consume.
Uneven Heating
Placing a pizza box in the oven may result in uneven heating of the pizza. Cardboard can absorb moisture from the pizza, leaving it soggy and unappetizing. This also affects the crust, making it less crispy and more chewy.
Oven Damage
The intense heat in the oven can cause the cardboard to deteriorate rapidly. This not only affects the quality of the pizza but can also damage the oven itself. The cardboard can release ash or burnt particles that can affect the oven's interior and its heating elements.
Pizza Box Composition
Pizza boxes are typically composed of several layers, each serving a specific purpose:
Can Pizza Box Put Under Low Temperatures?
The answer to this common question may surprise you. While it's generally safe to store pizza boxes in low temperatures, there are a few things you should consider before doing so.
Pizza boxes are made from cardboard, which is an absorbent material. When exposed to moisture or extreme temperatures, cardboard can become weak and lose its structural integrity. Therefore, if you plan to store your pizza box in the refrigerator or freezer, it's crucial to protect it from direct contact with any moisture.
To ensure the pizza box remains in good condition, you can take a few simple steps. Start by wrapping the leftover pizza in aluminum foil or plastic wrap before placing it in the box. This will act as a barrier, preventing any moisture from seeping into the cardboard. Additionally, you can place the wrapped pizza box inside a sealed plastic bag for extra protection.
When it comes to choosing between the refrigerator and the freezer, the latter is the better option for long-term storage. Freezing the pizza box will help to preserve the freshness of the pizza and prevent any potential bacterial growth. However, keep in mind that freezing may cause the box to become slightly brittle, so handle it with care when retrieving it.
It's also worth noting that storing a pizza box in the freezer for an extended period may affect the taste and texture of the pizza itself. While it will still be safe to consume, the quality may not be as good as when it was freshly made. So, if you're concerned about maintaining the pizza's flavor, it's best to consume it within a reasonable time frame.
Other Cardboard Alternatives to Reheating Pizza?
When it comes to reheating leftover pizza, cardboard has long been the go-to choice for many. Its ability to prevent sogginess and maintain the crispness of the crust is well-known. However, there are times when you might not have cardboard on hand, or you're looking for more eco-friendly and innovative alternatives.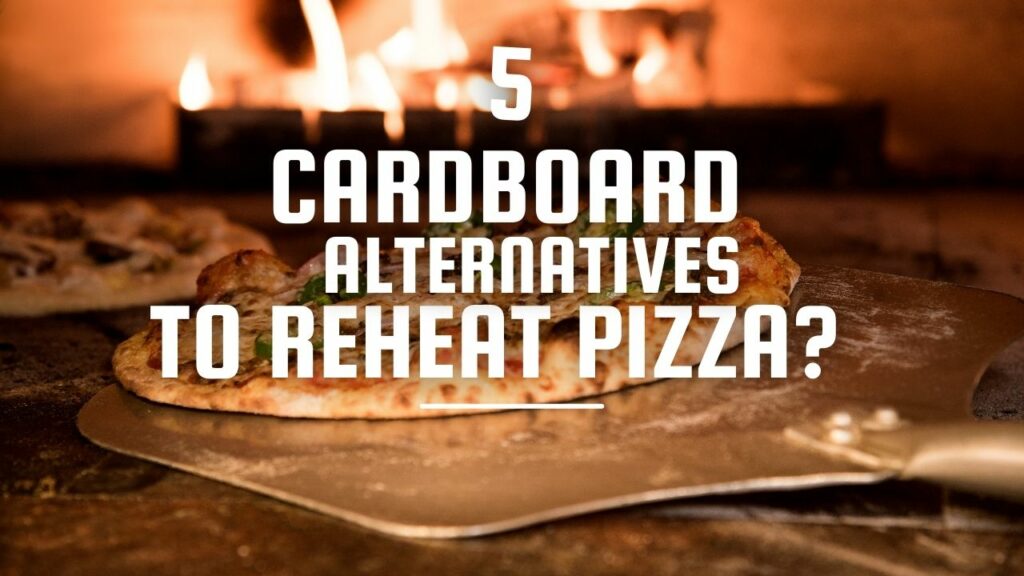 Ceramic Pizza Stones
Ceramic pizza stones are a favored choice for pizza enthusiasts who crave a crispy crust with a perfect balance of chewiness. These stones, typically made from cordierite or other heat-resistant materials, absorb and radiate heat evenly, resulting in a consistent, golden-brown crust. Preheat the stone in your oven for at least 30 minutes, then transfer the pizza directly onto the hot surface. The porous nature of ceramic stones absorbs excess moisture, ensuring a crunchy base, and the exceptional thermal mass helps maintain consistent temperatures.
Cast Iron Skillets
Cast iron skillets are not just for searing steaks or making cornbread; they're also excellent for reheating pizza. Their exceptional heat retention properties make them a stellar choice. To use a cast iron skillet, preheat it on the stovetop over low to medium heat, and then place your pizza in the skillet. Cover it with a lid or foil to trap the heat and melt the cheese. The result? A crust that's delightfully crisp and a topping that's hot and gooey.
Pizza Screens
Pizza screens, or pizza disks, are mesh-like, round tools designed to promote even heating. They allow air to circulate beneath the pizza, preventing sogginess and ensuring a well-cooked crust. To use a pizza screen, place it on a baking sheet or directly on the oven rack, then put your pizza on top of it. The holes in the screen allow hot air to reach the crust, ensuring that it crisps up beautifully. Pizza screens are a fantastic option for reheating frozen pizza or takeout slices.
Perforated Pizza Pans
Perforated pizza pans are another innovative choice when you want to reheat your pizza evenly. These pans have small holes throughout the surface, which facilitate airflow and help maintain the crust's crispness. Preheat your oven with the pan inside, then place the pizza on it. The holes ensure that heat reaches the crust from all angles, creating a delightful, evenly reheated slice of pizza.
Toaster Oven
For those looking for a quick and energy-efficient way to reheat pizza, a toaster oven is a fantastic option. It heats up rapidly and often features a convection setting, which circulates hot air for even cooking. Place your pizza on the toaster oven's rack or on a piece of aluminum foil and let it toast to perfection.
Convection Ovens
If you own a convection oven, you're in luck. These ovens use a fan to circulate hot air, resulting in even cooking and crispy crusts. Preheat your convection oven to the desired temperature, then place your pizza directly on the oven rack or a baking sheet. The fan's constant circulation of hot air ensures that your pizza reheats uniformly and without sogginess.
Wrapping Up
In the world of reheating pizza, it's essential to remember that while it may be tempting to place the entire pizza box in the oven, it's not a safe or practical choice. The risks of fire hazards, toxic fumes, food contamination, and uneven heating far outweigh the convenience. Pizza boxes are designed to protect your pizza during delivery, not to be subjected to the high temperatures of an oven. To enjoy a safe and delicious reheated pizza, always transfer your slices onto an oven-safe dish or use an alternative reheating method. Your taste buds and safety will thank you.