What should be an ideal 14 inch pizza weight? Before going into depth, firstly, we need to know about the weight of dough required to make a 14 inch pizza. The quantity of dough required in making distinct sizes has always been a riddle. Similarly, the weight of the dough relies on the size one desire to make.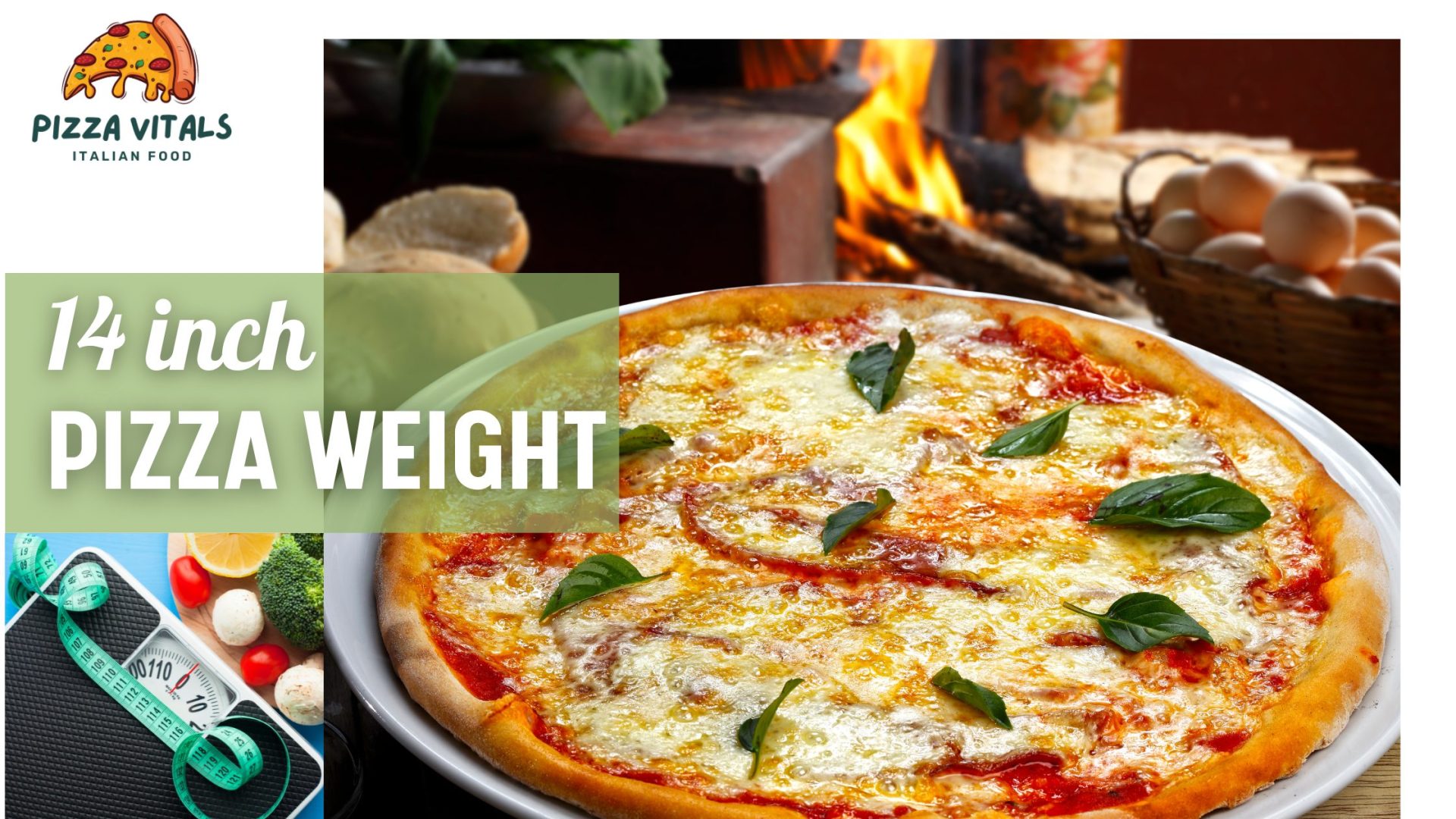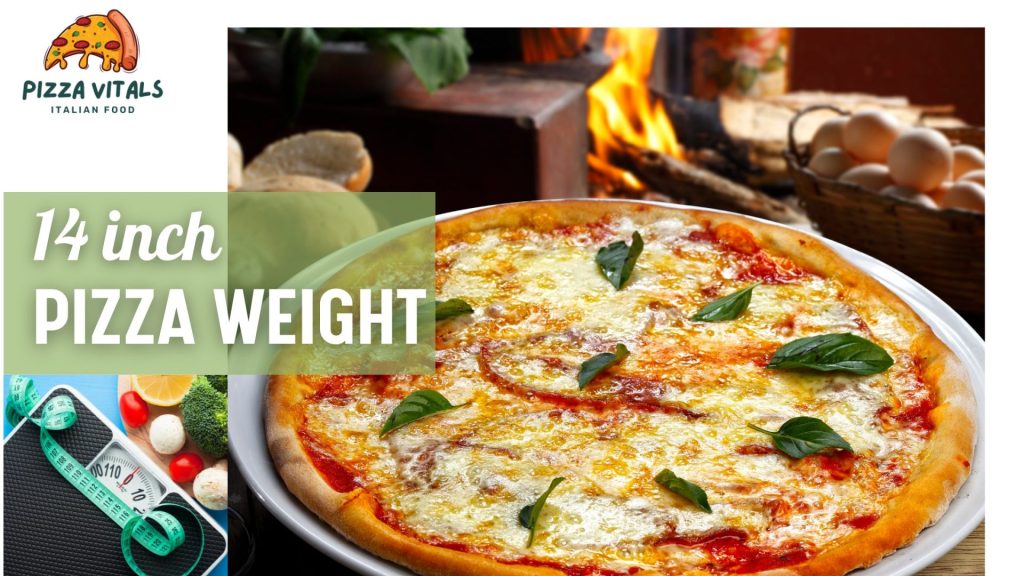 Before I give you any particular number, it is crucial to know that these sizes are not ubiquitous. However, numerous companies stick to these figures, but not everyone (considering all the local pizza shops) follows this. Nonetheless, the given integers are exceptionally approximate for such locales.
Even for brands, this isn't logical and general. A few brands may have their measurements that they stick to, but it's on no account going off by a colossal digit.
Can We Calculate 14 inch pizza Weight?
The simple answer to this question is "YES." The weight can depend on various elements. For instance, how many square inches is your pizza pan, and the thickness of pizza. For a 14" pizza you can utilize the given magic formula and calculator. The best part about this formula is that it is universal and can be used to calculate any pizza size, whether it is 8 inches, 10 inches, 12 inches, 14 inches or any pizza of your desired size.
For a 14" pizza, the pan size will be 153 square inches (size may vary). If you multiply this by 0.0884642, you will acquire 13.4 ounces. It's the ideal dough weight you will need to make a 14" pizza.
Importance of Knowing the 14-Inch Pizza Weight?
Knowing the weight of a 14-inch pizza is crucial for several reasons. It's helpful for someone conscious about his daily calorie intake. Knowing how much food you ingest can be advantageous to maintain a particular diet. Moreover, for people who like baking and cooking, precisely evaluating a pizza's weight can aid recipe validity. On top of that, for pizzerias and pizza outlets, correct measurements of pizza weight can assist in catalog handling and pricing.
Understanding the weight can also help decide the price of a pizza and the number of slices we can make from it. Last but not least, knowing the weight of a 14 inch pizza can help us to determine how many people it can serve. In this way, it helps us in ordering the right quantity and size of pizza.
How many Grams should be a 14 inches Pizza Dough Ball?
I think that personal liking + approach+ dough essence all influence the diversity of answers for this universal question. In this article, I will try to answer this general question; what is an ideal 14 inch pizza dough ball weight in grams? Let's assume a New York-style pizza, for instance.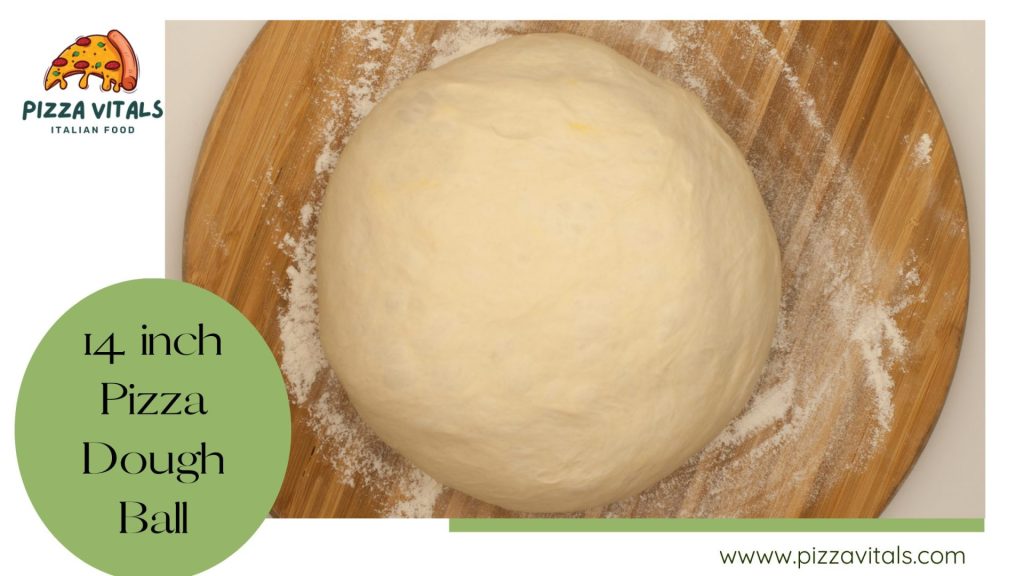 For a classic 14-inch pizza in New York-style crust, you will require 520 grams of dough. For A Chicago-style deep-dish pizza 737 grams of dough will be needed. This amount of dough is same as the weight of a grapefruit. Although, an average New York-style pizza of 14" consists of 436.4 g of dough.
What should be the weight of a 14-inch pizza?
This is again a very mysterious question so will the answers. What should be the weight of a 14 inch depends on a number of factors. However, a massive number of renowned brands make 14-inch pizza that weighs between 24 to 28 ounces.
Factors affecting the weight of a 14-inch pizza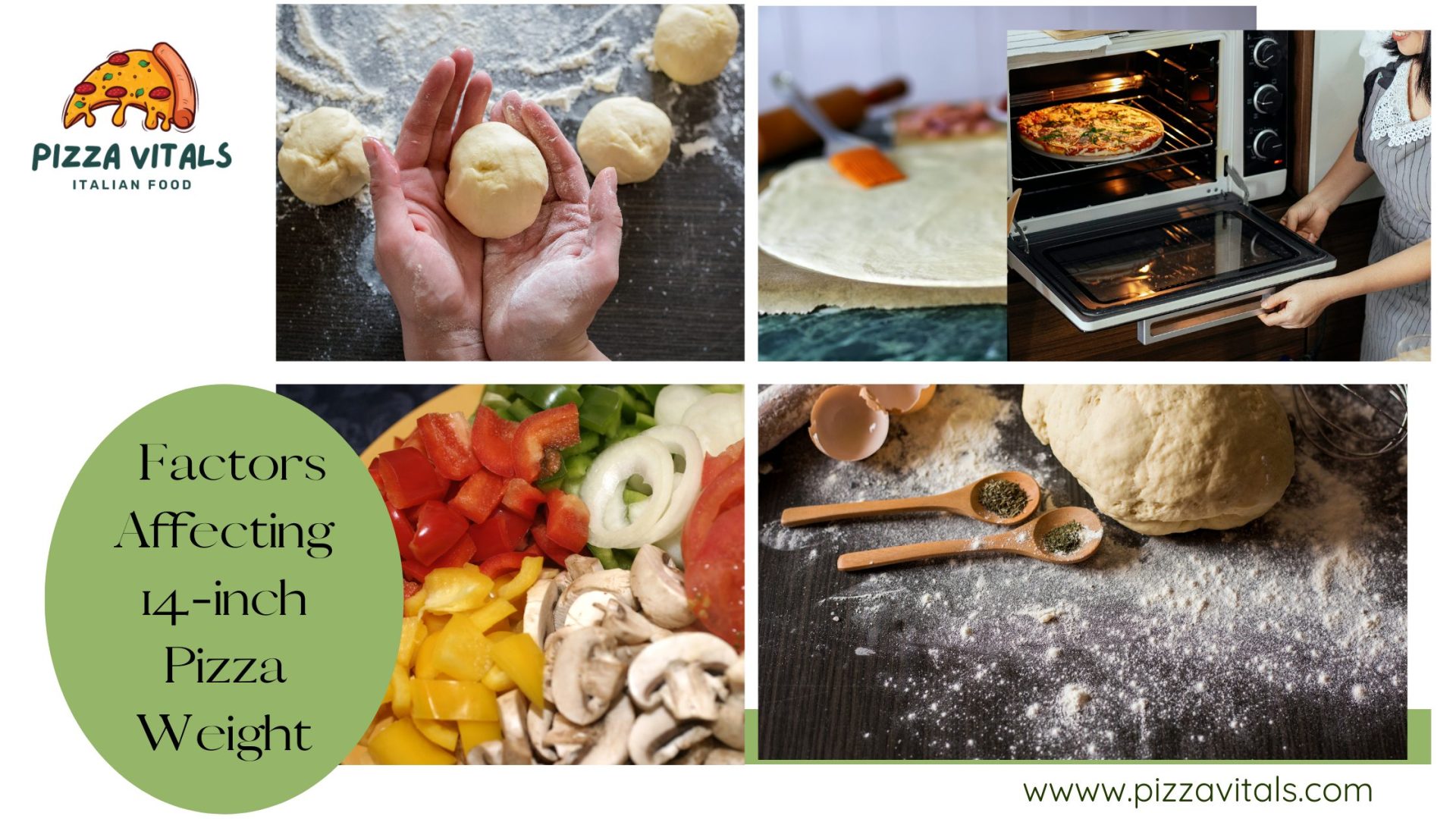 It can also influence the weight of the pizza. All pizza makers prepare dough according to their unique calculation of adding ingredients. I.e., salt, yeast, and water. For instance, if you have added yeast to the dough and left it unattended for hours, the dough can be over-proofed. It can stretch a lot during baking, resulting in a lighter-weight pizza.
The kind of crust being made is the major factor that affects the weight of a pizza. Pizza dough weight differs as per crust. A pizza made with thin crust will definitely weigh less than a pizza that has thick crust. Similarly, a pizza that is thick and stuffed-crust will weigh more than the rest two. The least weighing pizza is the thin crust. The science behind this is that a thin crust has less amount of dough, which is the weighty element of a pizza.
The components used on a pizza can also affect its weight. A pizza that has a large number of toppings or bulky ingredients like cheese, pepperoni and meat will be heavier than a pizza with light toppings like vegetable pizza or a low carb pizza excluding extra and heavy cheese or toppings.
Although, there are various styles of a pizza but the most common styles are New York style, Neapolitan and pan pizza. The weight of 14" pizza baked according to NY style will be of 300g, 375g for Neapolitan, and 450g for pan pizza.
The cooking method used to bake the pizza can also contribute in the weight of a pizza. A pizza that is baked or grilled will be lighter in weight than a pizza that is made by deep-frying method. Because in deep-frying, oil can be absorbed by the dough of pizza making it heavy.
The oven used to cook the pizza can slightly affect its weight. Various types of ovens, for example, wood-fired, electric, or gas, can have distinct impacts on the final weight of a pizza. Pizza is cooked quickly in a wood-fired oven (used in traditional pizzerias) because of the very high temperature. It's used to bake a crispy and Smokey pizza. The pizza baked in this oven will be lighter in weight because of the fast cooking.
Gas ovens can also make crispy pizzas, but the heat can't be higher than the wood-fired resulting in slightly heavy pizza compared to the wood-fired ones. In electric and conventional ovens, the heat is at a constant temperature which causes slow cooking and results in a heavier pizza.
FAQs
Wrapping Up
After reading this article, you will certainly realize that "Weight does matter." While the normal weight of a 14 inch pizza ranges between 1 to 1.5 pounds, many factors can make it weigh more or less. Specific styles of pizza also weigh more than others. When making pizza, one needs to examine the dough balls' size and the quantity required per pizza. Basically, the pizza's size will help calculate the dough we will have to use. The size will help us estimate the number of people it can serve.
Though, the weight of a 14-inch pizza can vary from brand to brand, shop to shop, chef to chef, and vice versa. The above-mentioned figures are still accurate if applied accordingly. There are numerous formula tricks available (a few of which are discussed here) to calculate the ideal weight of a 14 inch pizza. In short, all the research and calculations on deciding the exact weight of 14 inch pizza are subjected to the factors affecting the size of the pizza.
.